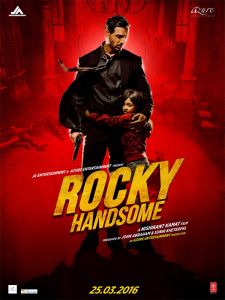 JA Entertainment and AZURE Entertainment produced and Nishikant Kamat directed Rocky Handsome which is an official adaptation of South Korean Film, The Man from Nowhere, braved competition from Batman vs Superman on its Opening Day by garnering net box office collections of 5.29 Cr. Along with the Paid Previews of 1.77 Cr, the Film collected Rs. 7.06 Cr from India theatrical collections.
The territory wise collections for Opening Day are as below:
Mumbai 1.60 Cr, Delhi UP 1.21 Cr, Punjab 0.37 Cr, CP 0.38 Cr, CI 0.23 Cr, Rajasthan 0.27 Cr, West Bengal 0.24 Cr, Bihar 0.23 Cr, Assam 0.06 Cr, Orissa 0.9 Cr, Tamil Nadu & Kerala 0.09 Cr, Mysore 0.22 Cr, Nizam 0.30 Cr. Total – 5.29 Cr.
The Film's lead actor, John Abraham is a Producer on the Film and has a 50 percent revenue share.
First Copy Cost of the Film is 27.70 Cr and P&A is 10.60 Cr bringing total investments to 38.30 Cr.
The Producers have sold select India Theatrical Territories, Music and Electronic Rights for 26.82 Cr and are distributing in Overseas, Mumbai, Delhi UP, Nizam, 50% of Mysore and 50% of East Punjab on their account against which they need to recover 11.48 Cr for break even.
Says John,"JA Entertainment is a responsible production house. My last two films, Vicky Donor and Madras Cafe were produced efficiently from financial perspective to ensure that investments into projects which try and push the envelope to try something new are protected with risk sharing from my production house. We have a similarly structured understanding with AZURE Entertainment and I have backed Rocky Handsome with the same ethos. This is a special film for us, which has been produced with full commitment of all stakeholders involved to deliver an Action Thriller with never ever seen before hand to hand action.When one sets out to do something different and sticks to the genre without compromising, there are risks involved but then how do you ever try novelty and push the envelope without taking risks. I have done it in the past with my earlier two films and shall continue to do so in future. That's the reason we I go to any length to make the film financially viable."
Adds Sunir Kheterpal,"I am sure that in the next few days, we will fully recover our investments as the film finds its targeted audience, which craves for Action Films. The Opening Day number including Paid Previews is the best yet for a solo John starrer in spite of huge competition from Batman vs Superman and Kapoor & Sons. A long term partnership spread across multiple films between JA Entertainment and AZURE shall prove to be a win-win structure for both of us "