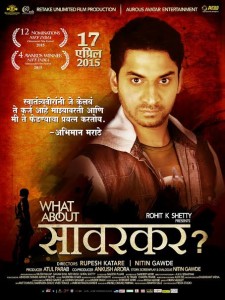 Usually, when a filmmaker plans a film, known actors are at the top of the list when it comes to casting for the lead roles, but upcoming film 'What About Savarkar?' will have newbie Shrikant Bhide playing the protagonist Abhimaan Marathe.
Talking about casting Bhide, presenter Rohit K Shetty said, "Though we have a few well-known actors like Sharad Ponkshe, Avinash Narkar and Atul Todankar in the film, we decided to cast Bhide in the lead role as he is an accomplished theatre artiste and we wanted a powerful actor and not just a known face. It is usually seen that big actors often work on multiple projects at a time and have their own whims and fancies while shooting for a film and we wanted to avoid all such issues. I must say that Bhide has done complete justice to his role and I am planning to cast him in one of my upcoming films too."
Scripted by Nitin Gawade, 'What About Savarkar?', which has been directed by Rupesh Katare and Nitin Gawde, stars Shrikant Bhide, Avinash Narkar, Atul Todankar and Sara Shravan in prominent roles. The film is already creating waves – courtesy of its intriguing storyline, hard-hitting dialogues, melodious music and power packed performances and is all set to hit the theaters on April 17.
SYNOPSIS
The film's story revolves around Abhiman Marathe, who works as an executive officer in an MNC in Mumbai. The 25-year-old, who is earning big bucks, falls in love with his colleague Suniti Singh, a beautiful Manipuri girl.
However, life takes a 180 degree turn for Abhiman, when he hears a corrupt and dishonest cabinet minister, disrepecting India's most revered freedom fighter Veer Savarkar. The young patriot sets out to teach the politician a lesson but is deterred by his family, friends and office colleagues. In order to accomplish his mission, he also resigns from his high paying job. In his fight against the corrupt leader, he is joined by a downtrodden youth Suryakant Pawar, his girlfriend Suniti and another young man from Konkan, Kranti Kamble.
Later, when he starts using social media to spread awareness about his mission, he receives an overwhelming response from the youth of the nation, which in turn gives him huge media coverage that enables him to reach out to a much wider audience.
Abhiman's journey to fight for Savarkar's honour starts in Mumbai and concludes in New Delhi. The film has been shot at various Indian cities and the makers have been able to capture the scenic beauty of Konkan, Manipur, Delhi and Punjab successfully.