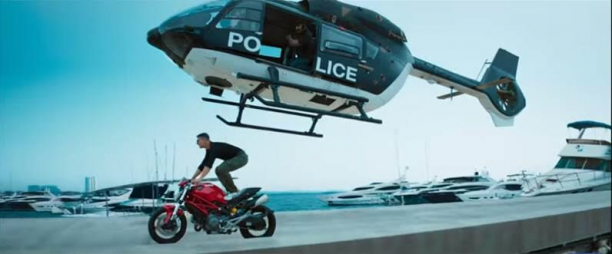 Director Rohit Shetty is back in his cop universe with his upcoming film Sooryavanshi starring Akshay Kumar. Set in Mumbai, Akshay Kumar plays the role of Anti-terrorism squad head DCP Veer Sooryavanshi and he is entrusted with the responsibility of preventing the 'biggest attack' on Mumbai.
Of course it being a Rohit Shetty film, you are sure to see some incredible action sequences and an exciting, thrilling tale.
Check out the trailer ICYMI
Now as you see the trailer features scenes of Akshay Kumar's adrenaline-pumping stunts that has bikes, helicopters and cars. Here's the thing, the director revealed that 90 per cent of the action sequences in his upcoming film Sooryavanshi are performed by lead actor Akshay. "Firstly, 90 percent of the action sequences are performed solely by Akshay sir. During the helicopter sequence, Akshay sir performed the stunt of jumping on a helicopter from the bike that he was riding without the support of harness, which quite shocked me and the rest of the crew," Shetty said.
"Initially, we had kept a cut in between the sequence of jumping on a helicopter from the bike, so we can fit the harness to him. But we didn't know when this man spoke with the pilot as he supported him in continuing the action sequence without the support of harness," he added.
Sooryavanshi also stars Katrina Kaif and features extended cameos by Ajay Devgn as Singham and Ranveer Singh as Simmba. Sooryavanshi is set to release in cinemas screens on 24th March 2020.