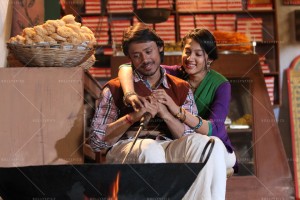 Jigariyaa trailer was launched by Rohit Shetty. The trailer launch was attended by the director Raj Purohit, writer and producer Vinod Bachchan and lead actors Harshvardhan Deo and Cherry Mardia. Jigariyaa is a love story set in simpler times and features newcomers, an interesting combination given the themes essayed by young actors today.
Rohit Shetty, who was a guest of honour, says, "Even I was new, today these people are new to this so I would like you to support these new people and help them grow further. So that when they will grow tomorrow you don't have to run behind these guys for their photos. Normally I would not go in any event but today I have come here to support them. I would speacially encourage Vinod Bachchan in particular as with the new artists they have created such a beautiful film. Mein samajta hoon "Jigariyaa" banana ke liye Jigar ki zaroorat hain, joh Vinod ne karke dikhaya hain. Vinod and I know since when I was an assistant director."
Jigariyaa, is inspired by the true events. The film revolves around the love story in Agra.
Wave cinemas Ponty Chadha present A Soundarya Production, Jigariyaa, directed by Raj Purohit, produced by Raju chadha & Vinod bachchan, starring Harshvardhan Deo and Cherry Mardia along with Virendar Saxena, K.K. Raina, Navni Parihar, Natasha Rastogi, Vineeta Malik, Deepak Chadha, Ketan Singh, is slated for 10th October 2014 release.