Hindi films are known for their romance and it is one of the reasons so many people fall in love with the heroes, the heroines and the films! We asked our writers to tell us what moments in Bollywood define love or romance to them, be it a song, a line, a look, or anything that makes you sigh thinking that is Love! So for Valentine's Day we present what we think is Romance Bollyishstyle!
The One with the Tune and the Recording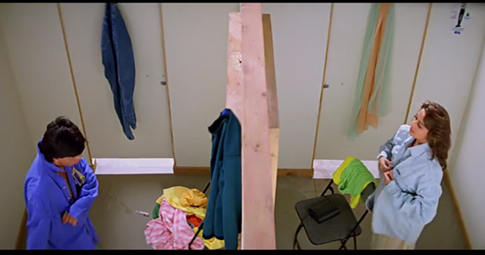 We could not pick just one scene from the great Dil Toh Pagal Hai starring Shah Rukh Khan, Madhuri Dixit, Karishma Kapoor and Akshay Kumar. However, the two that stand out for our writers are:
That moment when Madhuri and Shah Rukh are in adjoining changing rooms in a clothing store, and Madhuri hears him whistle a tune. She later hears it again and knows it was meant to be!
Then that moment in the end when during their grand performance, after Pooja answers the one question, Ajay aka Akshay, her "intended", plays that recording where she talks of her love of Rahul. The turn, the look and the line "love him very much, not for one day, not for one moment, but for my entire life" and the crowd goes wild.
The One DDLJ-ishtyle including the Cow Bell and the Look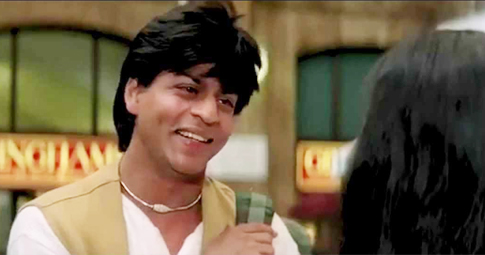 Dilwale Dulhania Le Jayenge, aka DDLJ, with the Tag Line "Come Fall in Love" and being the film that is considered THE Romantic Bollywood Movie of all time had to be on our list. We could list the lyrics and picturization of the song Tujhe Dekha Toh, the Palat Palat (Turn) scene, the cow bell on the door as well on the cow as a message of love and then, of course, the running to catch his hand and go off to live Happily Ever After ending…oh wait we just did… but the moment when SRK looks at Kajol in the train station after she asks him to the wedding and his eyes say EVERYTHING! MELT!
The One in K3G at the Pyramids
Featuring Shah Rukh Khan and Kajol, Suraj Hua Maddham from Kabhi Khushi Kabhi Gham is pure romance!
The One with the Yelling and the Hug
Another favorite prem kahani is Jab We Met starring Shahid Kapoor and Kareena Kapoor. There are two moments that really, to us, show the love.
After the interval we find out that Geet has disappeared. She did not marry her Anushman and is working in a school. Shahid's Aditya finds Geet broken from her lost love. That moment when, though he is yelling at her, trying to get her to wake up – he is really saying I love you! It is an "As You Wish" moment (The Princess Bride) and one of the most romantic scenes ever!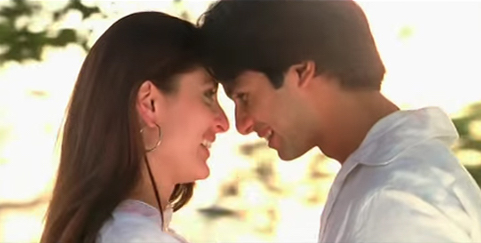 As in many a Bollywood romance we don't get to the happy ending until almost the very last moment and in the JWM climax scene Kareena's Geet FINALLY realises her true love, Shahid's Aditya gets the girl, a hug, a kiss and then of course a dance!
The One with Siddharth and Shraddha's Ek Villain Pyaar
Though maybe not your first thought when thinking of full on romantic films, there are some very, very cute scenes in Ek Villain where Siddharth fulfills Shraddha's bucket list wishes and we go awwwww before the OH NO!
The One with Love Shah Rukh and Kajol ishtyle
Kuch Kuch Hota Hai is another classic filmi romance we can't get enough of! You probably have your favorite pyaar-y moments but the two that we pyaar are:
The scene in the gazebo in the rain. Kneeling down he 'asks' her to dance ahhhhh, the music begins, ahhh, they dance … ahh the romance! And honestly, we know you will agree, this is one of the hottest scenes in Bollywood and it is just a dance!
You think finally you are going to get the happily ever after, but it being Bollywood we still have LOTS to go so we come to our next romantic pick:
Another scene where no words are spoken, Shah Rukh comes to see Kajol on her wedding day and says, just in movement, I Love You! And we scream at the screen 'Say it back! Say it back!' Ooh the feels! Finally in the end, well… we won't give the full 'brings us to tears' ending in case you haven't seen it, but it is Bollywood so you can imagine SRK gets his love!
The One with the Emperor and the Princess in all their glorious beauty
Does it get more beautiful than Aishwarya Rai Bachchan, Hrithik Roshan and the incredible hymn of love that is In Lamhon from Jodhaa Akbar?! We don't think so!
The One With Salman and Rani's Dream Sequence
One of many (!) favourite Bollywood Romantic moments for one of our writers includes the song 'Teri Chunariya' from the film Hello Brother. When you have Alka Yagnik and Kumar Sanu on the vocals, with music by Himesh Reshammiya, you are guaranteed to enjoy the romantic number. Picturised on heartthrob Salman Khan and Rani Mukherjee, this dream sequence song truly leaves you feeling very romantic!
The One with Arijit Singing his heart out!
Yes, we are talking about Tum Hi Ho from Aashiqui 2. One of the biggest hits and most loved love songs of 2013, it is now perhaps one of the most overplayed songs in the last few years. But we still love it!!! The wonderfully penned lyrics and music by Mithoon, as well as Arijit Singh's magic vocals really gave this song a splendid romantic feel and soulful touch that is hard to brush off. You love it when you hear it alone but it the movie there is even more love!
The One in PK with Anushka and Sushant
Anushka and Sushant's chemistry sparkles in the romantic Chaar Kadam. With music by Shantanu Moitra, lyrics by Swanand Kirkire and the pitch perfect vocals by Shaan and Shreya Ghosal you have one of ours and by the way, one of Anushka's favorite songs from the PK OST!
The One with Sweetness!
It is still amazing to us that neither Ranbir Kapoor nor Priyanka Chopra spoke a word in Barfi but we felt every emotion and especially their love for each other! There are many moments that showed us that love needs no words but a couple of them made our heart sing. One is when Jhilmil gifts Barfi a lavender flower, not knowing whether he'd accept it or not, and Barfi smiles and slots it behind his ear wearing it proudly. And oh that ending, when he makes sure his hair is perfect, he turns, they are reunited and we are lost in their love! Perfect!
The One with Unhappily Ever After True Love
Starring Arjun Kapoor and Parineeti Chopra, Ishaqzaade was a very intense take on the tragic romance of Juliet and her poor Romeo. There are two scenes, among the many, that one of our writers really think depicted the love of Parma and Zoya.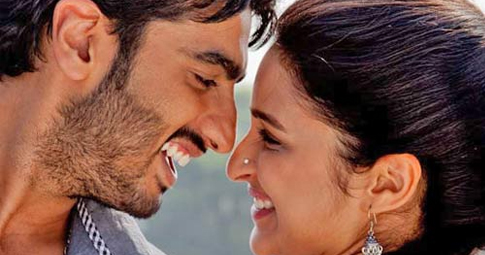 Scene One:
After Zoya forgives Parma, she says that he doesn't have to change (religions or otherwise) for anyone and they marry happily.
Scene Two: Zoya comes to kill Parma for his betrayal, but his mother stops her. Afterwards Zoya's family come looking for her and her father says that Zoya is dead to him. Parma's mother comforts her as she sobs inconsolably in her arms.
Though it is an Unhappily ever after, their love was a true love and be it Parma and Zoya or Romeo and Juliet love endures!
The One with Chetan Bhagat's Love Story
We loved everything about and everyone in 2 States. Based on Chetan Bhagat's book by the same name, it is actually the tale of his love story with his wife, which that in itself makes us want to include it on our list!
However, it is the love song Mast Magan with lyrics like:
Ishq ki dhooni roz jalaaye (the incense of love burns everyday)
Uthta dhuaan to kaise chhupaaye (how can you hide the rising smoke)
And the scenes it accompanies that make us fall in love.
The One with that magical moment when one hears love calling
One of our favorite songs of 2014 is Vishal-Shekhar's Ishq Bulaava from Hasee Toh Phasee.
"It's the heart and not the ears that hear when love beckons."
Need we say more?
The One with The Last Leaf
A tragic but oh so romantic scene is in Lootera (Ranveer Singh, Sonakshi Sinha), when Varun climbs the tree despite being shot in order to tie a painted leaf. The woman he loves is dying from TB and believes she will breathe her last with the last leaf. We have tears just writing this!
The One Where He Saves Her
That moment in Gunday, where during the song Saaiyaan, Nandita (Priyanka Chopra) is about to fall out of the car. Bala (Arjun Kapoor), although heart broken by her, reaches out and saves her out of harms way. That slo-mo moment they both share portrays the depth of love.
The One With the Love Once Upon a Time in Mumbai
With lyrics like:
Zindagi bewafa hai yeh maana magar (True, life is disloyal)
Chhod kar raah mein jaoge tum agar (But if you left my world)
Chheen launga main aasman se tumhein (I would change destiny and bring you back)
Soona hoga na yeh do dilon ka nagar (Our world of love will not end)
We HAD to include the great song 'Tum Jo Aaye Zindagi Mein' from Once Upon a Time in Mumbaii. See?
The One on the Bridge
Another film making us wait until almost the final frames to see if love will win in the end is Hum Dil De Chuke Sanam (I Have Given My Heart, Darling). Though we are sad for Salman (what a performance) the final bridge scene between Ajay and Aishwarya is one of the most romantic ever on celluloid. Just watch!
The One with from the classic Shree 420
The rains, the umbrella, yeah just the whole thing.
The One with Roller Skates
Perhaps not what immediately comes to mind but Raveena and Salman in Tumse Jo Dekhte Hi Pyar Hua (Patthar Ke Phool) because, well love and roller skates.
The One with Two Shah Rukhs!
In Rab Ne Bana Di Jodi, Shah Rukh Khan is Surinder and Raj and he loves Taani (Anushka Sharma) with his whole heart. Tujh Mein Rab Dikhta Hai with lyrics like this makes us swoon!
Tu Hi To Jannat Meri, Tu Hi Mera Junnon (You're my heaven, You're my Passion)
Tu Hi To Mannat Meri, Tu Hi Rooh Ka Sukun (You're my prayers, You're my soul's comfort and peace)
, Tu Hi Ankhiyon Ki Thandak, Tu Hi Dil Ki Hai Dastak (You're my eyes mist, You're my heart beat)
Na Janu Mein, Bas Itna Hi Jaanu (There is nothing more I know, Only thing I know is)
 Tujhe Mein Rab Dikhta Hai, Yaara Mein Kya Karu (I see God in you, My Love what should I do).
The One Where Veer and Zaara FINALLY get their HEA
When I asked my husband what he thought was the most romantic scene in Bollywood he immediately said when they meet after all those years in Veer Zaara and all the writers all totally agree!! With Tere Liye playing the background they see each other again after 22 years! It is perfect! In the end, Veer and Zaara FINALLY get their Happily Ever After (HEA).
The One with Blue
Tumhi Dekho Na from Kabhi Alvida Naa Kehna featuring Rani and SRK… Oh the color, oh the stars, oh the music and the singers but even more importantly Oh the Lyrics
Tumhara Hoon Main Aur Tum Meri (I am yours and you, mine)
It does not get any more sigh worthy than that!
The One with the Sindoor
One of the scenes that made us cry – not in sadness but in the presence of the beauty of true love is the scene in Vivah with the wedding in the hospital. The look of utter and complete devotion and love on Shahid's face as he puts the Sindoor on Amrita still makes us shiver to this day! That is saccha pyaar!
The One with Ajay and Rani and the wedding
Ajay (sigh) says one of the most (sigh) romantic lines in the history of romantic lines in the climax of Chori Chori: Main tumhari liye aaj apne sari khushi laaya hoon aur badle mein mujhe apne sare gham de do" (I have bought all my joy and happiness for you and in exchange simply give me all your pain). Then he says, "Will you marry me?" Sigghhh!
The One that goes Teriiiii Ore
Played at many a sangeet, Teri Ore (Towards You) from Singh is Kinng is one of the most romantic songs in Hindi film music. You fall in love with this gorgeous track the moment you hear it. Set in Egypt, Teri Ore is pictured on stars Akshay Kumar and Katrina Kaif. Besides this pair having onscreen chemistry, the vocals by Rahat Fateh Ali Khan & Shreya Ghosal capture us every single time. Love this song!
The One Where Sid Finally Wakes Up!
Starring Konkona Sen Sharma and Ranbir Kapoor, Wake Up Sid was a new vibe for Hindi cinema when it released in 2009 and we LOVED it. Though not your classic Bollywood rom-com this film was a wonderful prem kahani. The moment of love begins with one of the best songs ever, Iktara, playing in the background. When Sid reads Aisha's column about her love for him, he realized that along the way during this whole film or story he fell in love too. They meet in the rain (what is more romantic than that?), that first look full of so much emotion, the hug and finally the I love you! Oh to be in that scene!
The One Where He Hates Love Stories but falls in love
We could mention the romantic proposal full of everything red, we could mention the final I love you scene, all which are so romantic but there are two others in Imran Khan and Sonam Kapoor's rom-com I Hate Luv Stories we have to say got our hearts even more!
Not only does the song rock and have some moving and lovely scenes from the movie, it is the take on all Bollywood romance songs that makes us smile.
There is also the two versions of Bin Tere that make us sigh and longing for love! Check out the original:
Also, make sure you watch the movie and listen to the OST to hear Shekhar Ravjiani's unplugged version – total swoon!
The One of Laila Majnu's Love
Laila Majnu is one of the most classic love stories ever told. In Madhuri Dixit's Aaja Nachle, the story is presented as a 12-minute play featuring Konona Sen Sharma as Laila and Kunal Kapoor as Majnu. Every moment on stage is love. Like the audience in the film, we sat stunned and then broke into applause when the lights fade to black. (Yes, even watching it on DVD!) It is truly a masterpiece, pure art!
The One with Deepika's Daydreams
Featuring the lovely Deepika and Shah Rukh Khan and his eight pack, as well as the other fabulous cast, Manwa Laage from Happy New Year hits all the right love-y notes.
Not only is the picturization a sweet romantic longing, it is lyrics like:
Mann ke dhaage, dhaage pe saanwre Hai likha mene tera hi, tera hi, tera hi to naam re (On the thread of the heart, O beloved, I have written yours, yes your name alone) that make it oh so romantic.
Did we mention SRK's eight pack!?!
Special Mention: The One That Was Deleted
We are unabashedly Bollywood fanatics and when we were watching Salaam-E-Ishq we noticed that one of our favorite songs 'Mera Dil Dil Mera' was actually not in the movie. With some Bolly-sluething we found that the song was deleted. More searching and we found an uploaded video! What we saw made us love the song even more! Featuring Govinda, Shannon Esra, Salman Khan, Priyanka Chopra, Anil Kapoor, Juhi Chawla, Akshaye Khanna, Ayesha Takia, John Abraham, Vidya Balan, Sohail Khan and Isha Koppikar with lyrics like Mera Dil Dil Mera Ishq Mein Ab Tehra Ho Gaya (This heart of mine so full of love is now yours to keep) this song celebrates love! Enjoy!
We tried to limit it to 14 it being Valentine's Day and all but then HAD to go to 30! Of course, we could have gone on for pages since there are SO MANY pyaar, ishq, prem, mohabbat scenes that are the special magic of Bollywood love stories! Let us know what your favorite one is in the comments below.
With contributions by Aashi Gahlot, Neelofar Jamal, Bodrul Chaudhury, Núria Bonals Hidalgo, Faizan Qureshi, Jem Raj, Sheetal Makhan, Prateeksha Khot, Katherine Matthews, Reema Patel.