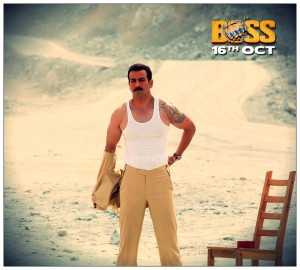 The action packed full on masala film Boss is set to hit theaters on October 16th. Starring Akshay Kumar, it also showcases acclaimed actor Ronit Roy (Udaan, Student of the Year) in a completely new avatar. In the film Roy plays what he calls the black character of the dangerous cop Ayushman Mathur. The actor's main challenge according to him was that he had to go through a physical transformation and not only that prepare to battle the King of Action Akshay Kumar. Check out what the actor told us about was the most difficult thing about doing this film, what it is like to work and fight with Akshay, and what he did once filming was over in this cool interview!
What was it about the role in Boss that made you say yes?
The director is a very old friend of mine. He is a great guy. He is a great filmmaker. Plus the writers [Farhad – Sajid] they have a track record of 5 superhit films. Akshay and me go back two decades. So it was all these things put together. Plus when I heard the film it was great script. It was like an instant connect. When I heard the film everything was very, very positive about it.
What went into constructing this dark character in the movie?
It actually is not a dark character; it is actually a black character. There is not a good bone in his body. He is completely black. This is a person for who there is no redemption. It is that kind of character. I just went with the director's vision. I just let him guide me through the film.
What was it like to work with director Anthony D'Souza?
All of them in fact, Tony and with Akshay and with the writers, it was absolutely fabulous working with them. They kept egging me on. I had to do a lot of bodybuilding, you know, in preparation for this role. There were a lot of things I couldn't eat and drink. They kept encouraging me; they had good words to say. It was all good ya!
I bet after the film you were ready for a big chocolate bar or something right? (Laughs)
(Laughs) Yes! We were in Thailand when we finished the shoot. We were actually 2 and half hours away from Bangkok in a very small place called Suphanburi. I finished there and then went to Bangkok and I was there for two days and for all of that I drank and I ate! (Laughs) So I made up!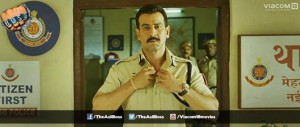 Now we have to talk about the hand to hand fighting scenes with Akshay.
It is extremely difficult. In fact, the first time I heard the script I told Tony this is extremely difficult and tough. So Akshay called me and he asked me, 'What's the problem?' I said, 'You know you are the King Of Action and I haven't done action in like 20 years – how am I going to do it?' Akshay has this thing that he takes the most difficult things very casually and he does them with a lot of ease. The credit largely goes to him because he helped me throughout. Even during shooting. Even the second day he saw me stressed and he said, 'Don't worry. Just hang with me and be cool about it and we will get it'. My first shot actually was that I had to pick him up and throw him down on the ground. You know though, once you get into it, once you are doing something then there is no thinking you just get in and do it.
Then the climax shoot, I read it was really hot at the location.
Yes, it was 47° Celsius land temperature at the quarry. So it was extremely difficult. Like I said it is Akshay Kumar and he takes care of everybody. Then he kept playing these pranks and yeah, he played one on me. He played pranks on everybody.
What do you think makes Boss special?
I think it is a great film. We have a young romantic pair. There are good songs. There's dancing by Akshay. There are good fight sequences. There is a very nice father-son emotional act to it. So it is a very fine mix of everything.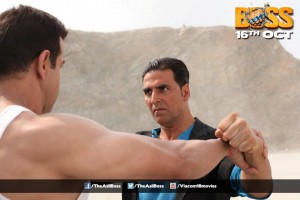 You have done such a range of roles and films, what has been your favorite so far?
Ahhhh…I think my favorite so far is yet to come! (Laughs) But currently at this point in time I would say it definitely would be Boss! This is something I haven't done before and working with Akshay after so many years – it has been absolutely great!
I find myself in a very good place. I have several films coming up: one is Boss and the other one is Ugly. They are both in different genres – one is completely commercial and one is what you would call real cinema. I think Bollywood and our audience in general has come of age and we are willing to accept good cinema in any form, which is very good for us. It is good for the actors – it works.
You also have Ugly coming up, what can you tell us about that film?
Ugly again is a very dark film. I play the protagonist but the role is dark, in fact everybody is dark. It is Anurag Kashyap's film and Anurag says, "It's my best film to date."
Wow!
Yeah, that says a lot!
Based on the Malayalam superhit Pokkiri Raja written by Udayakrishna-Siby K. Thomas, the Anthony D'Souza directed Boss stars, along with Ronit Roy and Akshay Kumar, Aditi Rao Hydari, Shiv Pandit, and Mithun Chakraborty and hits theaters on October 16th.