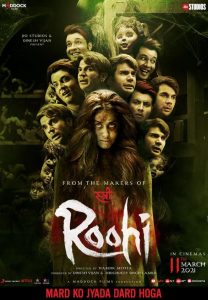 Rajkumar Rao, Jaanvi Kapoor and Varun Sharma team up to returned the magic of cinema to worldwide audiences in Roohi. Produced by Maddock Films and Jio Studio, this has the same team as the wonderful Stree and is a similar horror comedy. While there are still innocents, there are still demonic spirits and the men in the film are highly likely to get hurt the most, this still promises to be a decent bit of fun as the world comes out of lockdown. Sachin Jigar are also giving the music for this horror comedy, so the most interesting thing about this may be to see how they differentiate this album from Stree.
The album opens with Panghat but this could easily be a title song or end credits number, as it doesn't seem to have any particular story significance. It's certainly in a rush to get into the song and its repeated motif "Bohot katin hai dagar Panghat ki"… Halfway through the song we get a rap break with two repeated lines from Mellow D, which barely even flinches away from the beat long enough to actually be called a break. The song is over in 2.5 minutes and so doesn't even give the main singers Divya Kumar and Asees Kaur any time to show off.
"Phool hai gobi ka…," is how Rajkumar Rao introduces this internal monologue of a song Kiston. Jubin Nautiyal proceeds to deliver a sickly-sweet warning for Rajkumar to fall in love slowly… take it step-by-step. Yet, the music video would suggest he's not about to listen to reasoned logic! Flutes and violins back Jubin through this dream, with the actor obviously lost in the clouds of love. A mandolin gives a neat flourish to the whole thing, but this is for those new in love or into the waltz.
Since the album itself is just one dance number after another, it's hard to decide why the next song is Nadiyon Paar, but it is. A folk song with a superpower beat, its biggest problem is the subtitle "Let the Music Play Again" as it instantly gets the listener thinking its not original. This is further compounded by the face of Jaanvi Kapoor in the music video, who seems completely mismatched with the sounds that she's supposed to be singing. A quick Internet search shows that there are several remakes of this song, all of which seem to sound the same but with subtle differences. Rashmeet Kaur joins up with the original singer Shamur here to give us some classic Punjabi pop.
However, when it comes to classical Punjabi pop in Bollywood, look no further then Mika Singh. The 2000s are full of Mika taking over from Daler Mehndi and stamping his authority on Punjabi music in Bollywood. Bhootni is no different… it's easy to say this is classic Mika. The lyrics are ill fitted to the music, but Mika finds a way. There is a mixture of English as well as 'gangster' Hindi, but at the end of the day listeners are only here to listen to Mika's golden voice and that's very much on show.
Well, having had the class of Mika, the styling of Asees, Jubin in love and a remade Punjabi classic, the last song could only be for the comedian. In days past this was a requirement but very much went away after Mehmood's era. So, Bhauji is already looking good with Varun Sharma bringing back an old tradition. But this very much feels like an afterthought. The music is standard wedding fare and worst of all the lyricist wanted to include the word Fauji into the piece. This led to calling the song Bhauji and the repeating of the word "Bhau" which gave us the dogs and dog representations.
The music review for Roohi began with questioning how it will get away from Stree. Stree was only 4 songs in 12 mins, but each seemed to serve a purpose and felt well composed. Except for 'Kiston', this could be a 90s album remixed compilation, which seems to be pointless as music, but also in how it interacts with story points. It wouldn't be a surprise to hear these in the club for a few circuits, but even then, its lifeline seems short.