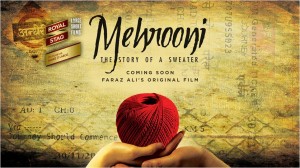 Royal Stag Large Short Films will be releasing "Mehrooni", starring Sharib Hashmi and Kristine Zedek, in the 1st week of September. For the lovers of the short movies, LSF platform had decided to re-release the film on their platform.
Royal stag Large Short Films(LSF) is a unique platform which gives movie lovers a distinct experience in the form of watching his favorite director's cut from a hub of Indian short films created by the Brand. This exclusive entrance came into existence in the year 2012 and gives the audience the window to enjoy short films made by large acclaimed directors. It also gives budding film makers a platform to showcase their short films with large ideas. It is a vehicle to submit Indian short film makers to the international festival circuit.
Directors like Anurag Kashyap, Sudhir Mishra, Chakri Toleti and Samar Khan have already been roped in to make short films of their own for this platform. This was done so that the aspiring filmmakers get inspiration and are able to showcase their films on the same platform as these established filmmakers. The brand became even larger, when they released their feature film 'The Last Act' which gave 12 aspiring Directors their feature debut. This project from the date of its inception was called project 12.12.12 by the brand. 12 aspiring directors, from 12 different cities of India, made this film together and the film released on December 12th 2012!
"Mehrooni," written and directed by Faraz Ali, is the story of a maroon sweater which is knitted in Mumbai and it grows in Mumbai. It's becomes the symbol of an unexceptional couple's journey, struggling to keep their love alive, and survive life in the modern world. The song is sung by Rekha Bhardwaj, her melodious voice is crooning in the background, Music by Arijit Datta, Cinematographer – Neeraj Tewari, Editor- J.D & Rahul Bajaj and Produced by – Abbas Syed & Imtiyaz Shaikh.
On the occasion actor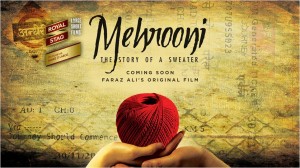 , says, "Mehrooni has been widely appreciated on the social media and I feel proud to be a part of such a beautiful short film. People have stopped me on the road and have asked me "you have done a good job in that train wala movie". I will cherish 'Mehrooni' all my life. And I am really excited now that LSF is re-releasing Mehrooni. The more it reaches the people the more excited I will be." Mehrooni portrays Simple Love in a Busy World, which still exists but we don't see it.
In just three years Large Short Films has over 5.10+ Followers on their FB page. Their short films 'Kirchiyaan' directed by Sudhir Mishra, 'Waisi Waali Khushi' directed by Samar Khan, 'That Day After Everyday' directed by Anurag Kashyap, 'Khamoshiyan' directed by Abhijit Das garnered massive views and likes from the audience. LSF now presents 'Mehrooni'