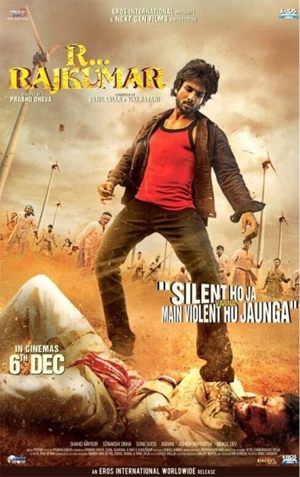 Prabhu Deva is back in the game with his second release of the year, R Rajkumar, which teams him with Shahid Kapoor, Sonakshi Sinha, and his much sought after music director Pritam. Deva had been trying to book the busy Pritam to compose for his other films, but it hadn't worked until this album. Pritam and Shahid also teamed for his last release Phata Poster Nikla Hero, which raises expectations for this album to deliver. As expected, the songs are energetic, catchy, and fulfill that masala quota. However, it feels slightly perfunctory in producing the kuthu song, the romantic song, the item song,
Gandi Baat has been making waves on social media ever since its debut, with good reason, as it's a catchy and slickly produced track. The song does resemble "Dhating Naach" with its chorus section of the dhols, and horns, but this one fares better with Mika Singh and Kalpana Patowary. The singers have such an electric chemistry with the track, and make the most of some shoddy lyrics. The melody just gets you dancing with the kuthu sound and I just love Patowary's fabulously husky voice, which works so well to give the song that rustic flavour. The album also features a Film Version of the track, which loses all its gusto with Nakash Aziz who seems out of place here. The track adds more reverb, goofy sound effects, and guitar riffs to give a different feel to the track, but stick with the previous one!
Saree Ke Fall Sa is my favourite of the lot as it immediately hooks you in with its arresting melody. Once again, the lyrics are quite goofy but it's that right blend of silliness that makes you hum "Touch karke, touch karke, Touch karke dil mera kyun scratch kiya re" soon after! The arrangements are stunning with the Celtic flute that chimes in amongst the Indian elements of the dhols, shehnaiis, and violins, since it really sticks with you long after the song is done. Nakash Aziz fares better with this track, which suits his more softer and romantic vocals, and Antara Mitra matches him with her energetic verses. This track has a remix version, which isn't worth listening to since it strips the song of its core melody and strong hook line. So do skip this one!
Mat Maari is another crackling and hilarious number that reminds you of the banter of some 90s Govinda song. The song works so well, because of Kunal Ganjawala and Sunidhi Chauhan who build up that sparring chemistry that suits the loud characters. I did find myself laughing midway through the track as Chauhan shouts "Chor, lukkha, luccha, ganda, Chor hai tu, luccha hai tu," and the throwaway insults that make these lyrics by Ashish Pandit stand out. The song is quite loud with the constant dhol melody and horns, but it was integrated so well that it didn't interfere with the banter.
Dhoka Dhadi is the quieter number for those that need a break from all the kuthu beats and wacky lyrics. This romantic number does sound like much of the Pritam staple of twangy guitars, cheesy saxophone, and softer arrangements. It's easy on the ears which is innocuous enough especially with the honeyed vocals of the Aashiqui 2 pair Arijit Singh and Palak Muchhal.
Kaddu Kattega tries to mix the thumping beats of the North and South Indian styles into one song, which makes it way too chaotic and loud. Antara Mitra does the best with the material but largely gets drowned out by the music around her. This tempo is a bit too fast, which doesn't give you anything to latch on to especially with the average melody and cavalcade of sound effects, and arrangements.
R…Rajkumar is a good album that fulfills its quota of songs for a Prabhu Deva film, which features many of the Pritam staples of catchy beats and cheesy lyrics. However, the album does feel uncreative and manages to coast by on the three songs that have the most buzz. Yet it's unlikely this album will live on past its release.