Runway 34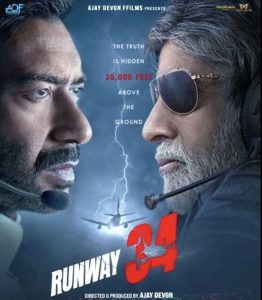 Starring Ajay Devgan, Amitabh Bachchan,Rakul Preet Singh
Directed by Ajay Devgan
There is one thing to be said about Amitabh Bachchan and Rakul Preet Singh's pink lipstick. They never fade , no matter how high the tension.
Me. Bachchan plays Narayan Vedant, a senior aviation investigator who unleashes a fury of questions on Devgan's Captain Vikrant Khanna after a flight from Dubai to Kochi gets into serious trouble.
Devgan's Vikrant of course saves the (may)day.
His conduct raises several issues, all nicely ironed out by the end. But the dramatic tension, while it lasts, is pretty compelling, eliciting the right amount of tension while airborne, and detention on ground level when Bachchan-Devgan courtroom sequences begin.
While applauding Devgan for playing a far-from perfect hero, I must also point out that he has some really talented supporting actors to invigorate the taut screenplay's impelling thrust forward. Boman Irani is excellent as the opportunistic avaricious airline owner. His character hardly gets any space to breathe. When it does, he is required to spew fire like demented dragon.
Devgan's wife played by Aakanksha Singh could have been a much more persuasive character had she been shown to have a will of her own. Sadly she is constantly seen justifying her husband's transgressions with the I-know-my-husband-too-well arguments which begin to seem illogical and stupid after a point.
What holds the plot together are the two main actors. Devgan and Bachchan are a treat to watch in the courtroom sequences. The latter's penchant for using shuddh Hindi legal terms and then translating them for us philistines is delectable.
Devgan's performance is among the finest of his career. He is bridled and brooding, intensely introverted, playing the misunderstood hero with a level of maturity that most topnotch heroes of Hindi cinema are not familiar with.
Technically sound and shot in fetching shades of dark grey and moonless white by cinematographer Aseem Bajaj , this is actually a far more accomplished thriller than commercial Hindi cinema usually creates. It has a no-nonsense aura surrounding it.
Even in the most disquieting phases in the plot the writing(by Sandeep Kewlani and Amil Keeyan Khan) is calm.