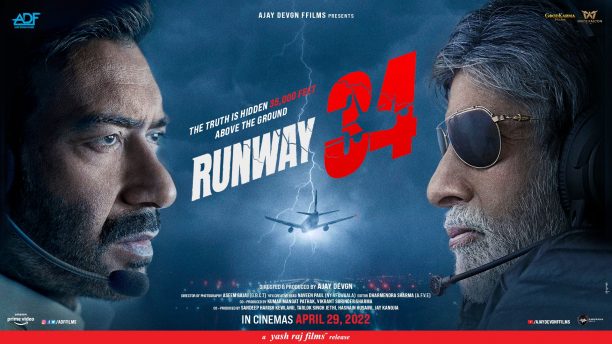 Ajay Devgn is getting ready as both actor and director to present some edge-of-your-seat drama with the upcoming Runway34 releasing on April 29th, 2022. The drama thriller boasts an impressive cast, including Amitabh Bachchan, Boman Irani, Rakul Preet Singh, Angira Dhar, Aakanksha Singh.
Runway34 is a high-octane thriller drama inspired by true events. It is the story of Captain Vikrant Khanna, played by Ajay Devgn, and the fateful incident that changed it all. Captain Vikrant Khanna, a flying prodigy of sorts, was determined to save the lives of 150 people when things went awry 35,000 feet above sea level. Followed by an official investigation to determine what and how things unravelled, we follow Amitabh Bachchan as Narayan Vedant on his quest to get to the bottom of the truth and his turbulent encounter with the prodigal pilot. This nail-biting thriller looks at what happened on that fateful morning inside that cockpit and outside of it, what triggered the incident and what the incident triggered.
Check out the teaser
Earlier, a source revealed, "Ajay Devgn will not only play the lead in the film along with Big B but also direct the film. This will also be the first time Ajay will be directing Bachchan saab on celluloid. When he was thinking of the cast for his next directorial venture, he immediately thought of Amit ji and offered him the role." Adding that once Bachchan heard the script, he loved the thrilling human story and agreed to be part of the project.
The trailer will drop on March 21st, so watch this space!