Shamin Desai's debut film has gone through a lot to see the light of day. It arrives after much
controversy to do with its subject matter's supposed clash with RGV's Rann. Both films deal with the power of media and the lengths people will go to utilise and gain from that power.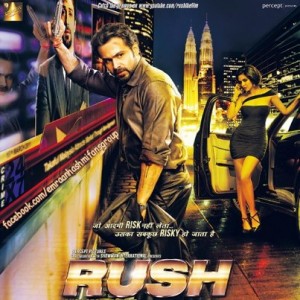 The film draws you in from the get going however after a brilliant start it takes a predictable turn. Yet somehow despite the predictability it keeps you quite engaged. As maker Dibaker Banarjee once said, you watch a story regardless of the climax because you want to know about the journey. You want to know how that end you've predicted will come about. Rush is one of those films. It requires you to not rush to disregard it just because you think you've got the plot all figured out. Stick around for notable performances and brutally truthful message that is worryingly relevant to current times.
Samar (Emraan) is an ambitious investigative journalist. Driven by the need to use media to bring truth to the people Samar goes to many dangerous lengths to get the story. After being let down by his home channel because the needs to keep sponsors happy exceeded the need to deliver the truth, Samar gets a too good to be true offer from Crime 24. Roger (Aditya Pancholi) and Lisa (Neha Dhupia) bring Samar in for the top job in their crime channel. Impressed by Crime 24's reporting assets, approach and of course the perks of the job, Samar says yes to the position. Life takes a turn to what he thinks is for the better. But of course things are not all that they seem.
Shamin Desai makes a more than decent debut with his first film. Although the script may not be the most novel concept, especially to fans of the thriller genre, the execution is commendable. He gets his casting spot on which is essential for a film that is driven by only a handful of critical characters. Thrillers in Indian cinema also tend to falter with their dialogues in attempts to being sophisticated and realistic. Surprisingly Rush does not fall into that trap thanks to Sanjay Masoom's dialogues.
Coming now to weaknesses of the film and one that instantly comes to mind are the songs. Makers need to be told that to insert songs in a thriller is somewhat of a cinematic crime! From a promotional video point of view the songs work but in a film of this genre they simply irritate. The other major weakness of the film is the climax that appears to be, for a lack of a better word, rushed. You expected it to be far more impactful.
Emraan Hashmi nails the role of a driven crime reporter. No one brings out a flawed character onscreen as brilliantly as he does. Neha Dhupia is very aptly cast as Lisa Kapoor. She's had the perfect demeanour and appeal to essay the role. Aditya Pancholi as always is impressive. One simply can't ignore the amazing screen presence the man has. Murli Sharma is a pleasant surprise in a small but essential role. Unfortunately for Sagarika Ghatke she doesn't have much to do in the film.
Rush may end up being a 'preachy' film but nonetheless brings home a very inherent message. Shamin Desai plants the thought in the minds of the audience that there might just be a need for the society to stop mistaking news as entertainment. It is this hunger to watch sensationalised news about another man's misery that drives the industry that is selling news. This of course has dangerous repercussion when the wrong people are in the job.
You leave Rush feeling moderately satisfied. It's a predictable but well executed script that keeps you engrossed quite a bit. Granted the climax is a let down and there are flaws in the screenplay, but the film remains something that is decent one-time watch. Watch it for the performances and the thought-provoking epilogue.