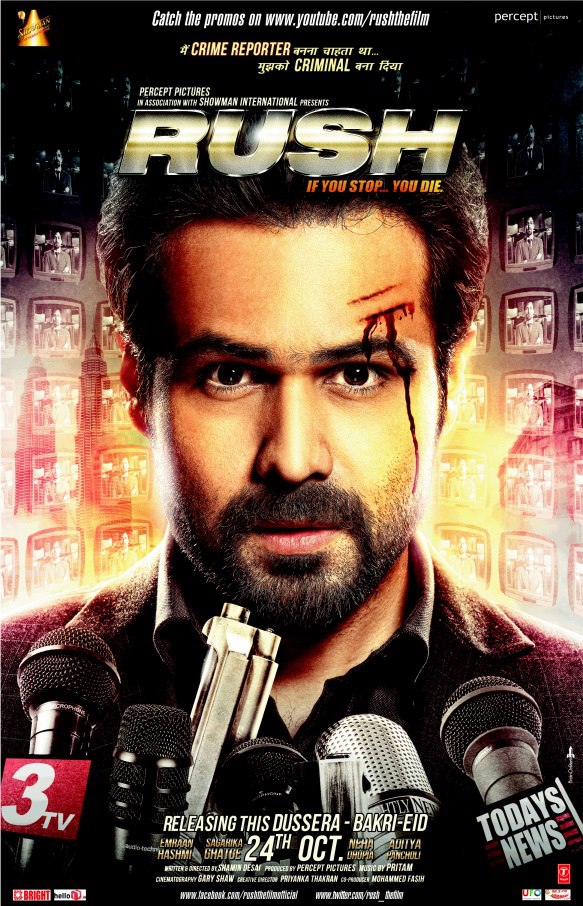 Rush is an upcoming film which will see Emraan Hashmi, Neha Dhupia, Sagarika Ghatge and Aditya Pancholi in the leading roles. It is a thriller based on a news reporter who is dragged into a world of violence and dangers after accepting an assignment from a big media tycoon. Directed by the late Shamin Desai, the film is scheduled to release in cinemas on 24 October 2012.
The music has been composed by Pritam Chakraborty. He has recently given us some memorable soundtracks which include Cocktail (2012) and Barfi! (2012). The lyrics to the songs have mostly been written by Kumaar, with Ashish Pandit, Sayeed Quadri and Hard Kaur appearing as guest lyricists.
The first track in the album is Chup Chup Ke. There are two versions of this song, with the music remaining unaltered. The first version has the great Ash King headlining the song, whilst the second version is headlined by the very talented Shaan. Muzzazam and Rizwan Ali Khan provide us with supporting vocals. We all know that Emraan Hashmi has mimed to a number of catchy romantic songs in the past. With the Rush soundtrack, this song can definitely be added to the list! It has been exquisitely composed by Pritam and has a Qawwali feeling to it which reminds you of another Emraan song titled 'Ishq Sufiana' from Vishal-Shekhar's The Dirty Picture (2011). An array of instruments can be heard such as the guitar and the tabla, which gives the song both a traditional and contemporary feeling to it. In terms of vocals, I am a fan of both Ash King and Shaan and I think that both singers have approached the song very well using their own unique styles and harmonies. It is difficult for me to choose one over the other. Therefore, I would strongly recommend that you give both versions a listen as they have been melodiously performed by both singers. Overall, a flawless composition which will definitely gain popularity!
Next up we have Fukraa, which is performed by Jazzy B and Hard Kaur. The song is lacklustre and it does not have the same spark as 'Chup Chup Ke.' It is a club track which has the strong use of bass. The vocals are average and there is a mechanic feel to it also. In general, the quality of the song is not very robust and it is a weak follow up to 'Chup Chup Ke.'
Following this we have Mumkin Nahin, which is a duet by Anupam Amod and Tulsi Kumar. Although it is a run-of-the-mill music composition, I found the strong romantic lyrics to be actually very pleasing. It is certainly much better compared to 'Fukraa' so give it a listen and perhaps it may have an impact on you.
We also have O Re Khuda, performed by Javed Bashir and the brilliant Adnan Sami. I have heard many beautiful songs performed by Adnan over the past years, but unfortunately this is not one of them. Despite the composition not being bad, I felt Pritam could have done more to give Adnan a truly memorable song that will remain with you for a long time. This particular song is a forgettable one and thus, it should have been honed by Pritam in order to make this an everlasting one.
Rab Ka Junoon is next and it is sung by Inderpreet Singh. This is a very powerful heavy metal song, with lots of strumming from the electric guitar, as well as the use of drums.  Due to the nature of the composition, I found this to be of very little appeal to me since heavy metal music is not a music genre which I listen to. It was a little too much for me, but it may appeal to those who like the presence of such music in Bollywood films on an occasional basis.
Finally we have Hote Hote, which is performed by Ash King and Hard Kaur. This is a peppy dance number which is listenable and it has been decently performed also. However, the downside to the song is that it lacks certain flavour to it. As a result, I feel that it will be forgotten after the film's release. Therefore, Pritam should have ensured that it had a catchier feel to it, just like one of his other similar compositions 'Main Tera Dhadkan Teri' from Ajab Prem Ki Ghazab Kahani (2009). 'Hote Hote' is an average song which could have been so much more!
In conclusion, I found the soundtrack to Rush to be a frail attempt on Pritam's part. After having recently composed some truly spectacular songs for his last album 'Barfi!,' Pritam has delivered here an album which has two great songs with the rest being very average. The main highlights of this soundtrack are definitely 'Chup Chup Ke' (both Ash King and Shaan's versions) and 'Mumkin Nahin.' Let's hope that Pritam will redeem himself with his next album!