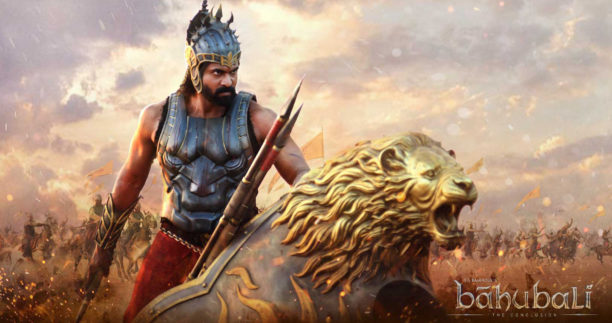 One of the films that is on everyone's lips, and lists to see, if they have not yet, is Baahubali: The Conclusion. The sequel to the superhit Baahubali: The Beginning, the S.S. Rajamouli directed epic stars Prabhas, Rana Daggubati, Anushka Shetty, Tamannaah Bhatia, Ramya Krishnan, and Sathyaraj.
Part 1, Baahubali: The Beginning, was released on 10th July 2015 in four Indian languages and in over 30 territories internationally, to critical acclaim. One of the most monumental releases in the history of Indian cinema, the film was awarded the prestigious Golden Lotus Award for Best Feature Film at the 63rd National Film Awards in 2015 and has been screened at over 25 film festivals around the world.
Before the release of the first film in 2015 Ashanti Omkar, host of the popular BBC Asian Network radio programme, had the chance to conduct some special interviews about the film. She told us, "It was great to catch up with the legend SS Rajamouli in 2015, as Baahubali: The Beginning hit the box office like a storm – http://www.bbc.co.uk/programmes/p02wcgqm. I also chatted with Rana Daggubati about the film."
Baahubali: The Beginning captured the nation's imagination and had fans clamouring for more! When it was announced that the second film was coming on April 28th the anticipation for the conclusion was off the charts!
Now the spellbinding film has hit theaters and has taken over the box office, breaking records by garnering over 81 million for the Telugu, Tamil, Malayalam and Hindi language versions for the first day. Over the weekend, it just kept getting higher and hit number 1 at the box office in India. In fact, the film doing is huge numbers worldwide and has hit number 3 in the US, number 5 in the UK in it's first weekend.
Ashanti Omkar was able to have another brilliant conversation with director about the new film and he revealed some insight into the Baahubali franchise and more!
Interviewing Rajamouli is a wonderful experience the radio personality reveals, "His candour, humility and vision, have always astounded me."
Adding that from her first interview with him until now, "He's not changed a bit. He continues to strive for perfection."
The interview was conducted right after the film was canned and the director talks of completing the epic, and that their intention was to "tell this story to as many people as possible". As he says, "We very quickly realised that it's a pan Indian film – it doesn't belong to one particular region."
Check out the amazing interview here!