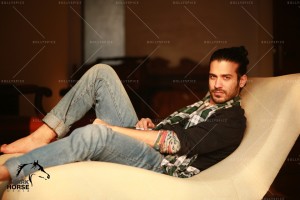 Saahil Prem- best known for playing the role of Satya opposite Sunny Leone in Ragini MMS2 has called out the Bollywood industry saying it is fake and typecasts actors for doing certain kinds of films.
"What I do not like is the fakeness. I do not like that at all. I also do not like some norms that you have to follow. Like if you do certain films, you will be typecast … it's very cruel like that," said Saahil.
In his opinion, Bollywood is about going to parties and as much as he likes partying with his friends, he cannot go to parties for networking. "So that's how Bollywood is today and I am still not in it at all. I know I am a part of it but I do not have any friends as such here…" he said.
On the flipside, the actor feels that the film industry is very accepting today. He states, "Now people are more ready to accept something different, so today maybe if a guy is not good looking but a very good actor, he would still have a chance, compared to before. Now I think anyone can be a hero. Talent is being noticed today. I really like that."
Saahil does know a few 'good people' in the industry. He met Shah Rukh Khan as a kid since his mother (Nishi Prem) and SRK have known each other for a long time. "I was never star-struck, but when I was sitting with Shah Rukh I was charmed by him," said Saahil. "He has this quality in him… he makes everyone like him," he adds. Saahil also knows Farah Khan and claims that she is "an extremely chilled out person."
The actor is now making his debut as a director and writer with the upcoming film M.A.D (Mad About Dance) where he is also the lead, alongside Amrit Maghera. The film is slated to release August 22nd this year.