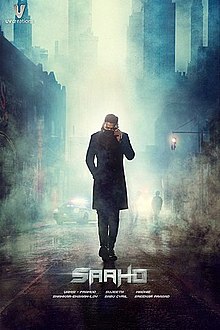 Post Bahubali, Bollywood audiences have eagerly awaited the return of the young star of Telugu cinema Prabhas. While there have been delays, Prabhas is back on screens with Saaho, another trilingual super blockbuster hitting screens at the end of August 2019. This super action with a plot with more twists then the clockwork instrument in the trailer, this releases as Bollywood's 3rd most expensive film of all time. Its music has also been spared no expense with Shankar-Ehsaan-Loy, Baadshah, Guru Randhawa and Taniskh Bagchi all being asked to deliver 1 song each for all the releasing languages. What comes out is a 15-minute album for listeners as below.
From the mind of Taniskh Bagchi comes a non-remake off-beat hip hop sound Psycho Saiyaan. Sung in Hindi by Yazin Nizar, Dhvani Bhanushali and Tanishk himself, there's plenty of synth and interesting use of sheenai and tabla in the background to this club dance number. It sets up without any real melody however with a sound that feels disjointed and almost rejects melody preferring to leave the singers to do the work. From a visuals perspective, this song interrupts a perfectly good moment of tension and by being so incongruous in sound, it really breaks away from a lot of the expected norms. Dhvani is perfect for this sound though, Taniskh seemingly having written the song for her, almost as if it was part of her album rather than for a film.
Enni Soni is a collaboration work between Guru Randhawa on both direction and mic as well as Tulsi Kumar, who has found her way back into Bollywood through working with Guru and his ilk on various Punjabi pop songs. So, on the face of it, a song that sounds like a slow tempo version of Guru's famous "Made In India" seems like a straightforward thing. There's not much of a beat as Guru's not trying to make some cool bhangra and instead the song focuses on the melody with a quiet rhythm section to back it up. Possibly this doesn't work well for Guru however, as he seems to struggle to keep a hold of the song and being forced to sing in Hindi doesn't seem to suit his natural Punjabi stylings. Tulsi is better being more experienced in Bollywood but can't cover as she doesn't have enough mic time.
To round out the trifecta is Bad Boy by Baadshah. Baadshah brings his brand of hip hop along with Neeti Mohan on the mic to give audiences some classic from "it's your boy Baad-shah" in this item song featuring Jacquline Fernandez. Nowhere is this more apparent then in the main chorus lyric "I know youre a bad boy, I can be your bad girl" in English all the way. As with the previous song, there isn't much airtime for the female in this case but since Baadshah is doing what he knows best, there's no deficiency that needs any cover. As it comes after a big moment in the film this plays out as a power hit, a soundtrack to victory and uses English as a kind of sword to thrust at the audience.
So far, the listener has had 3 pop songs by 3 great pop artists with varying levels of success. Baby Won't You Tell Me is delivered by Shankar-Ehsaan-Loy and is thus more classically Bollywood. This is the love journey song, a song of milan, a song of beauty and perfection. Visually there are pink lakes, green fields, whitest ice and vehicles to make every enthusiast gasp. This song, thus, must deliver a sound that can make all these scenes come to life for an audience that has become used to seeing them from the last 20 years of Bollywood films. What it delivers is an interesting beat with some capable singers in Raga, Shankar Mahadevan and Alyssa Mendosa, but for those who regularly listen to the works of their English counterparts this fails to really evoke anything.
So, in essence what is delivered here is an old-style compilation mixtape of some pop songs by some well-known artists. This is very much in keeping with the style of 2019 nevertheless doesn't really do anything for anyone. From a visuals perspective, each song seems to jump in, in a space that while perfectly plausible for Bollywood cinemagoers, really just manages to interrupt a fascinating story. From a listener perspective, someone having this in their playlists is either going to pick out the song done by their favourite artist(s) or keep the whole album as a sort of playlist in itself. As songs, none stand out, none dazzle. The sort of off-beat melody that Taniskh brings for Psycho Saiyaan is probably the stand-out part in an album of sticking to the script. However, by sticking to the plan, they've in their own way stuck to the task required by the film, whose story shows off the power of planning skills.