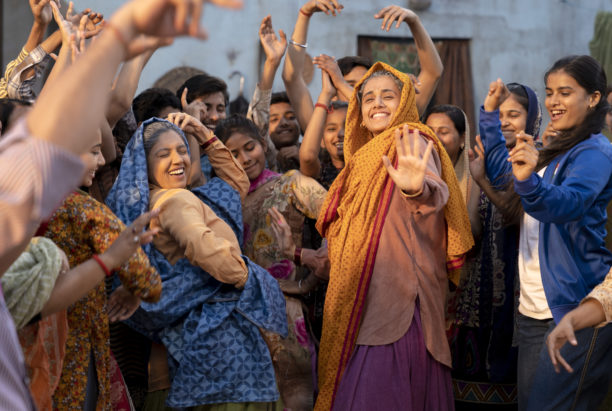 Starring Bhumi Pednekar and Taapsee Pannu, Saand Ki Aankh is based on the real-life Shooter Dadis (in translation: Shooter Grannies) – Chandro Tomar and Prakashi Tomar
Chandro Tomar and Prakashi Tomar lived their lives in the Johri village in the interiors of Uttar Pradesh, where they did all the work, had babies and never stepped outside of their small world. Year after year it was the same until one day a doctor decided he wanted to change the wind and started a training center for the sport of sharpshooting. The boys of the village were to go train but they did not take it seriously. However, one of the girls wanted to try her aim. So, at the age of 60, Chandro and Prakashi Tomar took her to the range but then they picked up a gun and hit the bullseye! Thus started the journey of the Shooter Dadis. What unfolded was nothing short of miraculous. They discovered their own skill of being exceptional shooters. Despite all the odds, they won 352 medals each in the course of their veteran professional lives as shooters.
What is most inspiring about this tale is yes, they did well and won many medals, but what truly lies at the heart of all of this is that they did it for the sake of their daughters and granddaughters in the hopes of encouraging them towards a bright future. They did not want their daughters, granddaughters and their daughters and granddaughters to share the same fate of a lifetime of suppression. They wanted them to fly and get the gold! In the end that was their greatest achievement.
Saand Ki Aankh, directed by Tushar Hiranandani, is a wonderful real life tale told on reel. Hitting theaters this Friday October 25th, the film also features Prakash Jha, Vineet Kumar, Kuldeep Sareen, Pawan Chopra, Kavita Vidhya, Shaad Randhawa, as well as Sara Arjun and Pritha Bakshi.
When you first see the length of the film, you may think oh dear, but by the last fade to black, I was so lost in the world and the story I had no idea how much time had passed. I could have kept on watching even more. Could it have been edited down and tightened up in several places, of course, but still I enjoyed all of the 146 minutes and every shot.
One of the best things about the film is that it is telling a very important tale but the director, the actors and the cinematographer always had the underlying energy of the Tomar sisters. If you see their smiles, even today, they have this illuminating energy that just comes out! There was a spark to the entire film and it is something that really stood out to me.
I have been trying to figure out a way to classify this film. It was almost like a classic western with a very Indian sensibility and story… but it is so much more than a classification. It was light and dark, sad and joyful, crying and cheering, failure and success played out by an incredible cast. My emotions were brought to the surface so many times. I laughed, I teared up several times, I danced and I may have even cheered while I was watching the screener on my computer.
Both Bhumi and Taapsee are brilliant and I will come to their individual performances next but the one criticism I do have to say is they did not look old enough in a true sense, or even in a makeup sense. The grey hair did not look real at all (you can always tell that) and the aging on their faces just was not enough. They looked older than their real life ages but not 60 or older on reel. If I did not know they were supposed to be grandmothers I would have never thought that and didn't while watching the film. The make up did take you out of the story but these two fine actresses overcame that and put on a show!
Bhumi Pednekar completely changed her body language, the way she talks to become Chandro. She had this twinkle, this tide of emotion and even more importantly, the power of Chandro shined through in every line and especially came lasering out of her eyes. She is this fierce tiger, mischievous imp and then full of so much emotion that in every scene you feel everything she does. It is an outstanding performance!
Taapsee is equally incredible in her role. There is this spark that just exudes from her from the scenes when she was young to the shooting scenes and fighting for what's right scenes. She fully jumps into this character and with energy, with drive and so many moving moments. She is Prakashi!
Sometimes it truly felt like it was that the energy of these two real life women came through the two actresses faces. Brava to both of them!
Prakash Jha as the "patriarch" of the family is so rooted in pride and arrogance and meanness. He is fabulous in the role. He along with Kuldeep Sareen and Pawan Chopra as the Tomar brothers are the darker energy to the story and as a viewer of the tale I just wanted the girls, both young and old, to escape the chains that have been placed on them by the "family". The actress that plays the wife of Prakash Jha's character (I believe her character is Bimla played by Kavita Vidhya), also deserves a shoutout. From the small funny moments you see her create to the final scene where lifts the veil on her emotions she is such a fabulous addition to the film!
Another shining performance was Vineet Kumar, who plays Dr. YashPal. He is the perfect supporting character that adds so much to the film with his honest and truly felt portrayal of this role. He really brought you into the story, you cheered when he cheered, you cried when he cried and in the end the character and the actor brought a great tale to life.
The rest of the characters also are wonderfully portrayed by a completely engaged and into the world cast.
The music is good and a couple of times I was dancing at my computer. However, some of the background music was really jarring because it went way too much into the electric rock guitar run element but that is being very picky. I am still singing 'Baby Gold Gold Gold' in my head and 'Womaniy'a is very celebratory.
It has some amazing shots with great camera work throughout, but every time I think of this film it will be when they first lift their veils put their left hand back and aim…. Wah!
Tushar Hiranandani brought together an incredible cast, with an amazing and inspiring story and it worked on every level. He told the story with honesty, with emotion. All the emotion was truly felt: the sadness, the powerful lines, the defeat and even more the light, the funny and the cheering Dhol playing moments are brought to the light brilliantly.
It is a story of female empowerment but it does not go over the top to stuff it down your throat. It is not a just story – it is real life female empowerment told on reel and I am really glad that he kept it to the tone he did. Chandro Tomar and Prakashi Tomar's heroics, their history and their heart shined through this way.
For the performances, but even more for cheering on Chandro Tomar and Prakashi Tomar, you should check out Saand Ki Aankh.
Be sure to stay to end of the last credit to see some pictures of the real life Shooter Dadis!