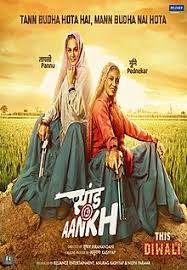 Indian sports people are often known as great cricketers or hockey players. Yet time and time again it is the weightlifters, squash and badminton players and shooters who win major medals representing India. For example, at the recent Asian Games in 2018 shooters took 9 out of a possible 28 medals for India in both men's and women's shooting. Saand Ki Aankh or literally bullseye is a new film for Diwali 2019 which presents the story of two ace markswomen Chandro and Prakashi Tomar; two of the oldest sharpshooters around. Vishal Mishra is tasked with giving a soundtrack to these two ladies lives with Raj Shekhar providing the lyrics.
Jyoti Nooran and Sunidhi Chauhan team up for Udta Teetar as the album's opener. An interesting combination piece with Western Rock instrumentation and also a harmonium, both singers take to a more classical style but with plenty of flourishes in their voices. Jyoti Nooran, as a more accomplished classical singer often sings over Sunidhi but never let it be said that she is left behind at any point. Given all this combination however, its odd to hear that the singers are essentially left to do all the work in what is essentially a light-hearted Raazi clone.
Next to a proper rock song sung by the rock artist Vishal Dadlani in Womaniya. But even this is heavily dipped in the style of fusion with it essentially being the Diwali song of this film. A sort of dream sequence there is both Jai to Hanuman and how nothing will stop these Womaniya. To this end where Vishal is singing he is backed by a strong rock beat, but there are several bits in this 3 minute song where the same beat is applied with slightly different instrumentation to bring it back to a more expected sound for the area of Uttar Pradesh the story is set in.
Asha Bhosle is a name that has lasted 70 years in Bollywood. This is because of her great variety, her willingness to take on high tempo and light classical. In Aasmaa, she takes on something unheard from her for a very long time: a lullaby. Backed by earthen pots, flute which handles both flourishes and bridges and a tabla, Asha presents a soothing melody of dreams, wants and desires. There is plenty to be sad about in this, but there is no hope lost in it either. All around this is a soft, easy song with the unfortunate side effect that it can lull listeners too to sleep, especially due to its length.
Having sorted the album's sad song the next song needed a mix of Hindi and regional in a way that only Bollywood does so Vishal Mishra has turned to Soha Mohapatra and Jyotica Tangri for Baby Gold. In this song both female protagonists are emphasising the worthlessness of age discrimination proving that at whatever be the age they are more steady and sharper than those around them. Instrumentation wise there is a similar mix of synth and dhol, giving this one a feel for the location but also not losing regular Bollywood listeners.
For the full regional experience there is Jhunna Jhunna Hi next, sung by Pratibha Singh Baghel and Krutika Borkar. Opening with an accordion, it quickly feeds into an upbeat traditional kethi song. The lyrics centre around the amount of work men put the women through, in a story that's unlikely to be unfamiliar to many people. Yet there is no loss of happiness and quite a lot of back-handed comments on the traditional male-female roles.
Vishal Mishra takes to the sound board and microphone to deliver the last 2 songs himself. As the film was originally to be called Womaniya, the song Womaniya (Raw Version) may easily prove to be the title song. Vishal is angrier and possibly more powerful then his namesake in this version but not much else changes. A more difficult challenge is Aasmaa (Studio version) where Vishal Mishra tries to take the place of Asha Bhosle, giving a male counterpoint to Asha's original. This one feels like an ending, as its not lullaby enough to induce sleep, but still has plenty emotional hit.
With the last two songs of this album Vishal Misha proves his own mastery of the mic which easily explains his skill in matching up singers with songs. Each song in this album feels like it had the right singer and the right feel for where its likely to fall into the story. Where things do fall down a bit though is the repetitive nature of the songs themselves especially since all these songs are longer than most of the songs in 2019 albums. Also while its important to recognise the regional aspects of the story, it might be questioned what having songs that do this add to an audience's experience of the movie as a whole and thus a good rating but still lacking.