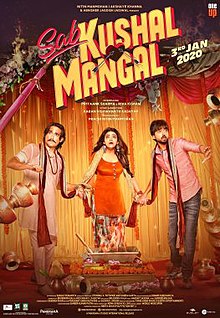 Sab Kushal Mangal
Starring Akshaye Khanna, Pariyank Sharma, Riva Kishan
Directed by Karan Vishwanath Kashyap
Small town romances have flooded our movie-viewing bandwidth, so much so that it becomes difficult to tell Tanu Weds Manu apart from Bareilly Ki Barfi.
The feisty, outspoken, unapologetic leading lady (newcomer Riva Kishan) in debutant director Karan Vishwanath Kashyap's stab at kidnapped grooms, forced marriages, crime and goondaism, and ground-level tv reportage in mofussil towns, echoes Kangana Ranaut's free-falling act as a marriageable daughter who goes to outrageous lengths to get rid of unwanted suitors and grooms-to-be.
This is an uneven but intermittently engaging nugget on non-metropolitan mores, thanks in no small measure to Akshaye Khanna's uninhibited performance as Baba Bhandari, a glorified local goon who sees himself as a some sort of Robin Hood in his locality when in fact he is too ridiculous to be taken seriously. Khanna is simply brilliant in this unconventional role. He will remind you of Jimmy Sheirgil in Tanu Weds Manu.
The problem here is one of familiarity. The Bihar-Jharkhand setting and the romance that blossoms between Mandira and the selfimportant tv anchor Pappu (Priyank Sharma) secretes a droll humour, never quite culminating into a high-rise hilarity that I am sure the script must have intended in the 'farce' place.
Nonetheless some of the courtship featuring the redoubtable Khanna and his object of adoration Mandira are well-written and performed with a tongue-in-cheek directness. I specially liked one sequence in a movie theatre where Khanna's Baba Bhandari while watching a Sanjay Dutt starrer with her, acts fresh with Mandira, and she puts him in his place.
Yup, for the women in this film sab kushal and mangal. They can take care of themselves. Even Mandira's Bhabhi in a smallish role, though outwardly oppressed comes across as a woman in-control of her marriage. Then there is Preeti Khare returning after ages as Mandira's bua. Who is she? Where does she come from?
Surpiya Pathak and Satish Kaushik playing the leading man's parents, make a cute couple. Their lengthy sequence where they impersonate a stereotypical Muslim couple is a priceless display of improvised inspiration. I'd like a film about their life as a young couple (with Satish and Supriya being played by Shahid Kapoor and Alia Bhatt).
And then there is Baba Bhandari's mistress. A firebrand who has him by his balls. These are women characters who come across as much stronger than the men who like to play tough with guns but are just overgrown brats under the veneer of violent bravado.
It's a ballsy film and fun to watch as long as the makers don't take themselves too seriously. Sadly it's the marginal characters who light up the screenplay while the central romance remains dimlit and dimwitted.