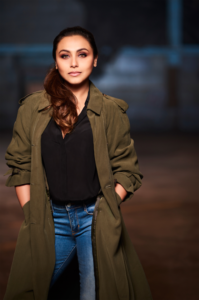 Renowned designer Sabyasachi Mukherjee recently gifted Rani Mukerji a pair of exquisite earrings, which he had personally designed, when the two met in Mumbai. Rani was completely taken by surprise and got extremely emotional with the special gesture from the designer. The designer also wished Rani all the best for her upcoming film Hichki, which marks Rani's return to acting after three years. Rani was very touched by Sabyasachi's thoughtful gesture, as he had preserved his first designed jewellery for his best friend.
"As we all know, Sabyasachi has forayed into jewellery and his collections are wowing the world. The designer had thoughtfully kept away the first ever piece of jewellery designed by him – a super exclusive polki earrings with South Sea pearls – especially for Rani. He had created the earring keeping Rani's personality and her charm in mind. He wished her all the best for Hichki while giving the gift. Rani was naturally emotional when she received this from Sabya," reveals a source close to the two.
Rani plays the role of Naina Mathur who has a nervous system disorder, Tourette syndrome that forces an individual to make involuntary repetitive movements or sounds. Hichki focuses on turning disadvantages into opportunities and staring down at challenges that life throws at one and ultimately winning over them. It is also a subtle reminder about discrimination that exists in our society and has become a part of our daily lives. It highlights this through the story of Naina, who faces discrimination from our society that firmly believes she cannot be a teacher because of her disorder.
Directed by Siddharth P Malhotra and produced by Maneesh Sharma, this heart-warming movie is set to release on 23rd February 2018.