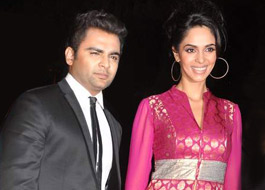 Sachiin Joshi gathered a decent share of critical acclaim through his debut film Aazaan. Hailed as one of the most technically brilliant films made in Bollywood, the movie even fetched the newbie a Stardust Award.
Taking his quest further, Sachiin is now all set to star in his next project Mumbai Mirror with none other than glam sensation Mallika Sherawat opposite him.
Sachiin plays a quirky cop in this realistic commercial potboiler, while Mallika essays the role of an irresistible dance bar queen. The movie mirrors the Mumbai underbelly and revolves around the nexus between powerful corrupt dance bar lords and the Mumbai Police.
Directed by Ankush Bhatt, of Bhindi Bazaar Inc. fame, Mumbai Mirror has music my Anand Raj Anand. Shooting commences April end and wraps up in three months.
"Mallika and Sachiin make a very unique and fresh pair. Mallika is the apple of the teenage eyes, and her chemistry with daredevil Sachiin is sure to create a hullabaloo," says the director.