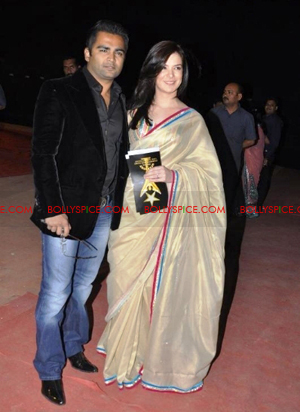 Well just a few days post Valentine's Day and we sadly bring bad news for a lot of beautiful women out there. One of India's most eligible bachelors, is all set to tie the knot with his long time girlfriend. Sachiin Joshi confirmed that he and girlfriend Urvashi Sharma are all set to get married. The confirmation arrived from the Aazaan star on Valentine's Day via his phone status. The actor posted a picture of Urvashi and himself and revealed that the duo had decided to get hitched. The news left many of his closest friends pleasantly surprised "I doubt any of us were expecting this, but we are really happy for Sachiin and Urvashi," reveals one of them.
Sources reveal that Sachiin is a planning an extravagant reception scheduled to be held in the first week of March. The guest list is set to include the biggest names in B-Town along with politicians, industrialists and bureaucrats.
Sachiin's sisters have already got the ball rolling when it comes to wedding preparations with the reception set to be held in Mumbai. Urvashi Sharma might be a Delhi girl, but there have been no plans to hold a celebration in the capital city yet. Sachiin himself is quite excited though he hasn't commented on any of the wedding plans. Either way, everyone around him is expecting him to give up his bachelorhood with a bang. After all, he doesn't do things any other way!