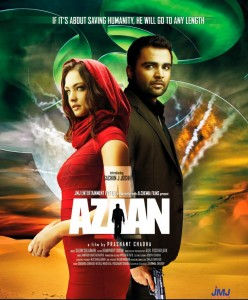 JMJ Entertainment is all set to step into the world of glitz and glamour with their forthcoming film Aazaan starring Sachiin Joshi and Candice Boucher in the lead roles.
Aazaan will roll out the red carpet for two star studded premieres – the first one in Grand Cineplex Dubai and the next one in PVR Mumbai. The premiere will see debutant Sachiin Joshi sashay down the red carpet with his co-star Candice Boucher. Also, walking the line will be director Prashant Chadha, Actor Ravi Kissen and music composers Salim-Sulaiman.
Aazaan – A vision of JMJ Entertainment was created with a belief that Indian cinema can be at par with global cinema, so, an International team of professionals was instrumental in giving shape to this film – which has duration of 120 minutes.
With striking visuals that belong to 'never seen before' category Aazaan theatrical trailer had everyone sitting up and taking notice. "Like every film we have also put in a lot of hard work in making the film, but more than nervous I am excited about the release. We have done a lot of innovative things to market Aazaan and thankfully we have got a lot of positive feedback from the promos that are running in the theatres currently," says the debutant actor Sachiin Joshi.
Touted to be Bollywood's biggest espionage thriller ever, Aazaan directed by Prashant Chadha had an elaborate shooting schedule all over the globe that includes locations spread across France, Morocco, Hong Kong – China, Germany, Poland, South Africa , Thailand and India to name a few.
The film is not only shot and put forth in the most stylized way you would have ever seen, but the marketing of the film has also been path-breaking. Be it the maximum amount of outdoor campaigns to live music concerts in India with the cast of the film or pioneering the digital space to the most innovative merchandising – team Aazaan has done it all. The film came out with an array of innovative merchandizes keeping the theme of the film in mind – A spy pen and a watch that doubles up as a USB among other things like t-shirts, mugs, notebooks.
The music of the film has been given by the stalwarts Salim Sulaiman – and it's without a doubt creating waves and is on everyone's playlist. "We are way too excited about Aazaan. It's our best music of 2011," says Salim.
Aazaan is the story of Aazaan Khan(Sachiin Joshi)- young upright army officer working for RAW with a mixed lineage of Afghan and Indian parents. As part of his duties, Aazaan gets drawn into the murky world of espionage only to find his younger brother a suspected terrorist. What unfolds is a fast paced story of one man's determination of saving his country against all odds.
The film will hit the silver screen in India and other 22 countries with over 1000 screens worldwide. The film will release in four different languages – Hindi, Tamil, Telegu & Malayalam.
So get ready for an experience into the world of espionage, like never before – when Aazaan releases on the 14th of October 2011.