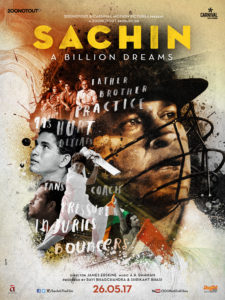 I had a concern before I went to see this film. Was this film going to go the Bollywood route a la the Emraan Hashmi starrer Azhar or the Sushant Singh Rajput starrer MS Dhoni? After watching the film my concern was completely different – How do you review someone's memories and experiences? The answer is simple. You can't.
And this is what Sachin – A Billion Dreams is. A journey through the trials and tribulations, the happiness and sadness of the man the sports world and cricketing fans know as 'The Little Master'. It is about the multiple journeys and experiences of the people alongside a single individual. And it is all real.
To call this a film would be wrong, because it isn't. It is a documentary about cricket, Sachin and Sachin's life between 22 yards for 24 years. It is about how hard work and talent make greatness putting it quite simply.
There isn't a cast as such to review as unlike Azhar and Dhoni, we are given the real Sachin. A guards down version which is a rare treat as any Sachin fan would know how deeply protective he is of his personal life. And rightly so given the lifestyle he has lead for the last 24 years where every move has been scrutinised a billion times over. We are also given real family members from wife Anjali to mother Rajni Tendulkar. Cricketeers galore from Sir Viv Richards to Shane Warne and let's face it, they aren't actors. Yes they have media handling skills but not acting. So they do what they do best, which is talk from the heart and the emotion comes across, be it when Nasser Hussain say's 'when Tendulkar is noisy India is noisy; when Tendulkar is quiet India is quiet', or when Shane Warne is talking about his bowling experiences. The love respect and admiration for his achievements is evident.
I would give credit for this production to several people. First person would be whoever came up with the idea not to go down the Bollywood route. Sachin's journey could not be covered in a conventional Bollywood film. Second person is the person who suggested James Erskine be the director. Finally James Erskine himself.
Erskine is known for his fact based documentaries, and here he has managed to not just present Sachin the cricketer, but also Sachin the son, the brother, the husband, the father and the friend. We are given the rare opportunity to experience the present day with Tendulkar but also the past through his personal home movies where we experience things other than cricket. Yes, it is about the cricket because that is what the name Tendulakr is synonymous with, but you learn so much more, you learn about his kit, he answers the question about his cricket bat, you learn about his Bappi Lehri connection (trust me when I say that this one surprised me too). Erskine has managed t do what he is known for, present both sides of an individual Private and Public beautifully. He has managed to capture the emotion behind the game and the individual, there are often moments where you just relive the emotion that was felt.
AR Rahman's music as always is a treat and well suited to the subject. The only thing I would have changed was the whole Vande Mataram part, possibly picked something else.
So would I recommend it? Yes. If you are a cricketing fan, if you are a Sachin fan, then yes go watch it. I can honestly say you will learn about Sachin the man and Sachin the cricketer. Bear in mind, this is not a typical Bollywood film. It is about the dream of a man that were shared a billion times over with every Indian cricket fan as well as every Sachin fan.
As for a rating, I am going with a 3.5 heavily batting towards a 4!