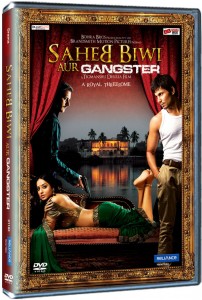 Reliance Home Video has released Saheb Biwi Aur Gangster on Home Video. Viewers can now enjoy the film on DVD (Rs.299) and VCD (Rs.149).
Saheb Biwi Aur Gangster is produced by Rahul Mittra and is directed by Tigmanshu Dhulia. It stars Jimmy Shergill as "Sahib", Mahie Gill as "Biwï" & Randeep Hooda as "Gangster".
Saheb Biwi Aur Gangster is a story packed with intrigue betrayal and ambition between a beautiful Begum, her Nawab husband and an ambitious young boy!
The Nawab and his Begum, live in their ancestral royal house, but due to some extreme financial conditions and the long gone habit of a royal having a mistress, the Nawab tries really hard to maintain his financial condition. His rival Gainda Singh is on a constant mission to eliminate the Nawab and get a hold of the administration, which has been with this royal family for decades. Due to the Nawab's interest in his beautiful mistress, Begum suffers from the lack of his attention and tries to put her effort into getting him to come back to her. The Nawab starts taking contract killing assignments to be able to cope up with his lifestyle and to get a stronger hold over his campaign for the elections. The drama in the plot walks in when the rival gang plant Babblo, to plot the Nawab's killing, as the temporary driver for Begum. Begum suffering from the lack of her husband's attention gets into a relationship with this driver who seems to be giving more of his time to her. Babblo falls deeply in love with the Begum and lands up confessing his connections and intentions in front of the Nawab. The story is filled with twists and turns as Biwi uses Babblo to get the mistress killed to gain back the lost attention from her husband. Babloo manages to fulfill her demand but in turn gets ambitious and wants the begum for himself and the power which Saheb now holds after he eliminates Gainda Singh.
Sweta Agnihotri, COO of Reliance Home Video said, Saheb Biwi Aur Gangster, is a well-made film with a powerful plot, engaging script, commanding dialogue and super performances! The movie will be high on everybody's wish list as a must-have DVD/VCD."
Saheb Biwi Aur Gangster has received wonderful reviews from the media; here is what some of the critics have had to say:
The Three Principal actors put in rousing sexy performances in this voluptuous and raunchy romp in the raw and rugged romance of the forbidden – Subhash K Jha, NDTV
If you want to hear some fantastic dialogues, and see high drama and fine performances, Saheb Biwi Aur Gangster is the film. Very interesting movie! – Komal Nahta, koimoi.com
Saheb Biwi Aur Gangster – woov! cinema at itz best! must watch! – Jeeturaj
Saheb Biwi Aur Gangster DVDs and VCDs are now available at all leading stores across the country.