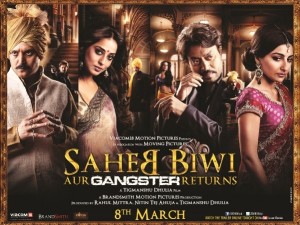 Although I liked Saheb Biwi Aur Gangster moderately I felt it could have been better. In the sequel, Tigmanshu Dhulia fixes all that needed to be fixed the first time round and comes out with a cracker of a film which is bigger and better, much better.
Saheb Biwi Aur Gangster Returns starts where the prequel ended. Saheb/Aditya (Jimmy Sheirgill) is crippled but does not let his disability stop him from ruling his 'praja' with an iron hand. Biwi/Madhavi (Mahie Gill) is as alcoholic and brazen as ever, strongly resenting still being a pawn of Saheb's despite becoming the MLA of her district. Enter the Gangster/Indrajit (Irrfan Khan) who is an ex-royal and dreams of earning back the lost glory which was snatched away a few generations ago by Saheb's family. That Saheb has set his heart on marrying princess Ranjana (Soha Ali Khan), Indrajit's lady love, does not help matters.
It is difficult to put Saheb Biwi Aur Gangster Returns in one genre. Is it a revenge tale or two love triangles playing simultaneously? Is it a political drama or a take on dying royalty and desperate royals? Watching this film is like watching a thrilling game on a chess board where each and every move is unpredictable, and one is left wondering till the last minute as to who will finally say 'checkmate'. The morally corrupt characters go about their lives committing sins with such relish that it is sheer delight to watch them.
Dhulia creates an authentic world of intrigue and hardly puts a foot wrong. A good story is well complimented with a strong screenplay. The cherry on the cake is the excellent dialogues, capturing the irony and humour of situations perfectly. What is especially applause-worthy is that the dialogues do not stoop to cuss words or vulgar language to make an impact.  A special mention must be made for the costume designers who have attired all the characters just right. On the downside, a couple of scenes in the second half needed to be better explained. The music is bad and songs act as irritating speed breakers – especially the Mugdha Godse item number which is tasteless and totally unnecessary. However, these are small complaints when compared to the positives.
The eccentric characters needed very strong actors to be brought alive on screen, and the super-talented star cast does not disappoint. Irrfan plays his gangster with just the right amount of madness, slyness and vulnerability – as usual a delight to watch. Jimmy matches up to him with a Saheb simmering with frustration at his physical and social state, an egoistic man who is ruthless in power but sensitive in love. The leading ladies are not as strong performers as the leading men but manage to hold their own – Mahie with her scorching sensuality and Soha with her demure charms. The supporting cast is uniformly good. My pick of the lot is Rajeev Gupta who plays the silly politician – the scene where he is caught watching porn on his laptop is just outstanding.
Saheb Biwi Aur Gangster Returns is tragic yet a lot of fun to watch. It is bizarre but with a distinct method in its madness. And it ends with the promise of another sequel. I say bring it on!