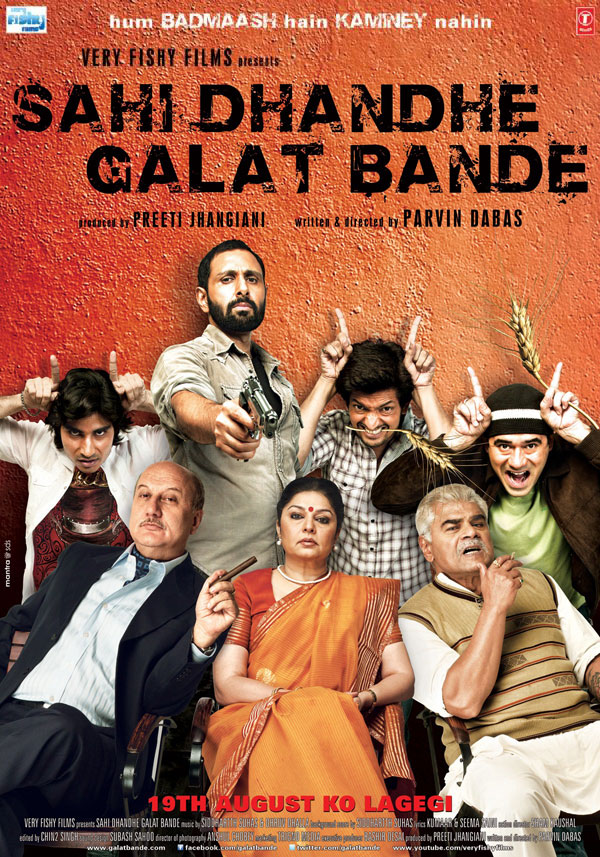 Starring: Parvin Dabas,Vansh Bhardwaj,Ashish Nair,Kudeep Ruhil
Directed by Parveen Dabas
Ekdum sahi hai, boss! As Anna Hazare – God bless his revolutionary soul – shifts from Tihar to Ramlila Maidan, our cinema has made a far more gradual movement  from  the 'arty-unintelligible' grammar of  Mani Kaul to the 'arty-accessible' language of Parvin Dabas' film.
This is the land of Shyam Benegal's social inequalities where politicians pitch their self-interest higher than the good of the country.
Not every do-gooder is a Hazare. Sometime you just have to make do with a benign goon like Rajbir (Parvin Dabas) who breaks legs (shot on mobile phone) and extorts money for his surrogate-father (Sharat Saxena, in his usual excellent form). When Ranbir and his three socially-questionable friends set their hearts on saving their village farmers' land from urban land-sharks you know this is the land of Sholay brought into the political consciousness of the cinema of Mrinal Sen and Benegal.
Sahi Dhande… is an immensely ambitious film. Debutant director Parvin Dabas sets out to create a cinema that prods the audiences' conscience awake without lengthy speeches on corruption and reformation. Dabas keeps the pace uniform and even.
But portions of the narration suffer from a sense of slackened tension. Where  a more taut editing pattern would have added considerably to the film's viewable quotient, Dabas opts to just let the plot flow in the way he deems it right. The absence of overt intervention in making the narration slicker, is both a virtue and a vice in the overall design. While you applaud the film's objective attitude to the theme you also miss the absence of a deft storytelling.
The quibble is shortlived. You cannot stop yourself from admiring the screenplay (Dabas, Sanyukta Shaikh Chawla) for not succumbing to the temptation of creating  an enforced charm in the proceedings. Yes, the plot does take off at a rather incongruous tangent in search of a formal climax where we see Dabas and his compatriots put up a fight with the film's arch villain in slow-motion splendor, a la Dabangg.
Also some of the writing smacks of amateurishness. When at the start the Dabas character comes out of jail his friends arrange a girl in a bikini in a bathtub as an antidote to his year-long celibacy. Jail bin machli, kya??
And Dabas' girlfriend's character, a pretentious arty piece with a nosering to go with her sham attitude,should have been barred from entering the script.
These concession to audience-wooing apart, Sahi Dhande Galat Bande moves at its own arrogant but endearing pace. Some characters such as the village Taai (Neena Kulkarni) and the corrupt chief minister (Kiron Juneja)'s conscientious son (Udit  Khurana) are interesting to the point of being liberating for the screenplay.
The lucid camerawork (Anshul Chobey) and the  performances add to the film's energy level. Parvin Dabas, an actor who has consistently been true to his characters, here gets a  huge helping hand from his co-stars.
Sahi Dhande Galat Bande is a kind of unique effort. It teases the conscience awake. It's a warm and honest film that looks with unblinking directness at issues which are more relevant now than ever. If Anna  Hazare were to see this film he would surely smile.