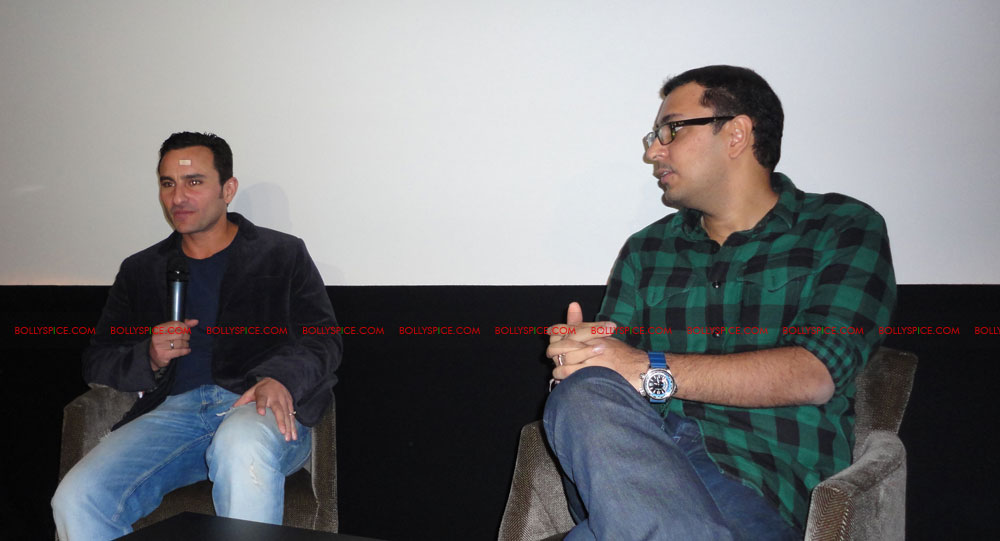 Agent Vinod actor Saif Ali Khan and producer Dinesh Vijan recently promoted their film in the UK. The film also stars Kareena Kapoor, Prem Chopra, Ravi Kishen, Ram Kapoor, Adil Hussein and Gulshan Grover. The film is an Illuminati Film production in association with Eros International, produced by Saif Ali Khan and Dinesh Vijan, co-produced by Sunil Lulla, directed by Sriram Raghavan and music is by Pritam.
Agent Vinod – Saif Ali Khan's dream project
Saif: "I would not say it's a dream project. that smacks some kind of obsession. It was just a good role and in fact, when I and Dinesh came together for Illuminati Films, the idea I brought to the table was to make Agent Vinod. We opted for Love Aaj Kal before making Agent Vinod. It's not a dream project but there is a large market for even a cheesy Bond rip-off and there have been many in the past and people love to go and watch them. So I thought why don't we make a Bond rip-off and try not to make it cheesy? "
Dinesh Vijan and Saif Ali Khan – The perfect partnership
Saif: "I met Dinesh during Being Cyrus. He produced the film with a few people and I thought that he is a smart guy. He understood the business and we also got along well and had a few laughs. I like the way his mind works and the approach he has to things generally. We have this unsaid and even said rule in our company that one of us has to convince the other before we go forward with anything. It is a good relationship because if we are not in the same room and you bounce an idea off one of us, the other will usually react in the same way which is a good thing for a partnership like this. If he reads a script and says it's too cheesy, I will probably say the same thing."
The Budget of Agent Vinod
Dinesh: "We are well within the budget. You can ask Saif."
Saif: "We went a tiny bit over budget."
Dinesh: "We went into different countries which helped to keep the budget where it should be. We went to Riga in Eastern Europe where we did a couple or car chasing sequences. We went to countries that were visually interesting and where India has not gone before. We managed to do pretty well."
Agent Vinod – 100 crores
Saif: "I don't know anything about this 100 crore club but we would like to make as much as we can. I think it has potential to appeal to single screens as well as multiplexes and a lot of movies don't appeal to both. The film certainly gives value for money. I think the character is also very special to me. It's not what you would expect. The film is two hours and twenty long which is not really long by Hindi film standards."
Saif Ali Khan – The exclusive actor
Saif: "I had a bit of quite few years but that is in the past already and I don't know why, I just did not feel like doing more work. I was setting up my production and doing other things. But the last two years, sorry to be crude, have been the most rewarding financially. It's strange. I have to seem done less but made more (laughs). But an actor should act. He should be seen more often. I should work more and I am. I am working on Judwaa 2, Race 2 and Cocktail."
Agent Vinod releases in UK cinemas and worldwide on 23rd March 2012 through Eros International.