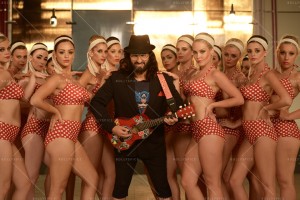 In a one-of-its-kind role, Saif Ali Khan will be seen doing a very interesting cameo in his own film Happy Ending. The actor is also playing the lead in the film.
The quirky director duo (Go Goa Gone, Shor In The City) have always done something unusual and unique in their films. They are also known to put interesting cast together for their films and Happy Ending also seem to an entertaining ensemble cast. In their last film, Go Goa Gone they presented Saif Ali Khan in a hilarious avatar as a fake Russian gangster and this time they created a cameo for Saif again as a wannabe rockstar/bum – Yogi.
"Saif excels in roles where he has to play characters. He is one of those rare actors who has no inhibitions or hang ups and plays any role with full gusto," exclaim the directors, Raj & DK.
About the character
YOGI (Saif) is a mystery. Maybe he was a wannabe rockstar or maybe he is like the 'dude' from Big Lebowski. He spouts weird philosophy that's usually spot-on And he is almost always there when Yudi needs his unsolicited advice. We don't know much else about him.
We are first to report that Saif actually plays a different character besides the lead.
Here is a glimpse of what Saif will look like in Happy Ending.The film is a contemporary take on love and love stories.
Happy Ending stars Saif Ali Khan and Ileana D'Cruz in the lead roles. The film is presented by Eros International and produced by Illuminati films and is all set to release on 21st November.