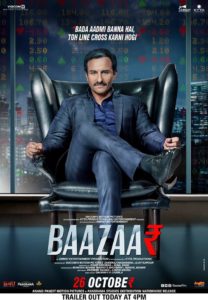 After wowing audiences with his first-ever web series Sacred Games, Saif Ali Khan will be next seen in debutant Gauravv K Chawla's Baazaar. The actor has played a variety of interesting characters throughout his career and recently he opened up about his role, Shakun Kothari in the film. Saying he finds it both challenging and complex. The character is a sharp, astute and money-minded merchant who knows his tricks to extract profit out of every business he undertakes.
Saif recently talked about the preparations he had to undergo before really becoming the character. He not only read and researched extensively but he also chose to get a first-hand experience of the share market before he started off with his schedule.
The actor says, "I have always had a cursory knowledge of the market… speaking to friends and reading books by people like Warren Buffet have been very interesting. To research for this specific part, I drew on many personal equations and people I know in Mumbai. The Gujarati businessman is a definite type…the trick was to make him scary, tough and very cool. The accent also had to work, without making it caricaturish."
Baazaar has already piqued up everybody's interest for its intriguing and powerful narrative and we can't wait to watch the film exploding with applauds in theatres this month.
Viacom18 Motion Pictures, in association with KYTA Productions and B4U Motion Pictures presents in association with Emmay Entertainment, Baazaar, an Emmay Entertainment production in association with KYTA Productions, the film is scheduled to release on October 26.