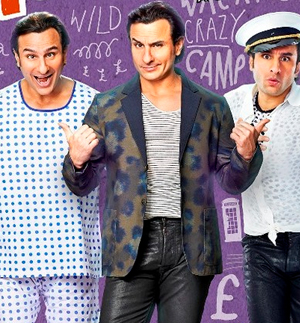 Get ready for a laugh riot Bollystyle as the outrageous comedy Humshakals comes crashing into theaters this Friday, June 20th. Directed by Sajid Khan, the film stars Saif Ali Khan, Riteish Deshmukh and Ram Kapoor along with the lovely heroines Bipasha Basu, Esha Gupta, and Tamannaah Bhatia. Humshakals promises three times the chaos and confusion because Saif, Riteish and Ram will be playing triple roles!
For Saif Ali Khan, Humshakals has the actor playing three different characters, all named Ashok, and all living in London. The first avatar is that of a gentle billionaire heir, who wants to make it big as a stand up comedian. The 2nd Saif Ali Khan aka Ashok is a character whose mind is that of a 5 year old. And the 3rd Saif plays an effeminate Ashok, complete with dramatic reactions, witty dialogues and catty mannerisms.
See what Saif had to say about Humshakals!
"When I was offered a chance to enact three crazy but seriously funny, and likeable Ashoks, I took this up with keen interest. Going beyond the usual is always exciting for an actor, with Humshakals, doing that has also been a lot of fun," said Saif.
One of the main reasons he did Humshakals was that he wanted to work with Sajid Khan, "Humshakals is a crazy Sajid Khan comedy kind of film. He has worked extra hard on this because he felt that he has a point to prove to the world. Sajid works hard to entertain people. Humshakals is his kind of comedy and that's the idea – you have to make a film which is wider and Sajid is one of the top names in the film industry."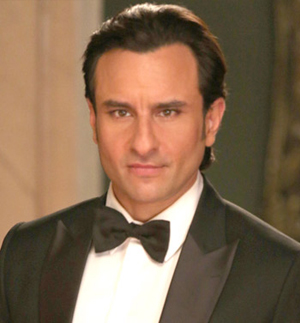 About doing the wild comedy of Humshakals the actor said, "I do not have an issue potentially making an ass of myself. (Smiles) It does not worry me. This film is different from anything that I have done so far. I have found that the basic level of comedy comes easy to me and a great comedy is something else and Sajid Khan's comedy is also something else."
So that number where he was dressed as a woman romancing Riteish full on Bollywood style… Saif answered smilingly, "It was very interesting. It was hot, I was wearing a swimming costume, I was looking at Riteish. I was wondering if this was the right co-star to take my career forward! (Smiles) But it was great working with him. He is very attractive!"
And what did wife Kareena think of the Saif dressed as a woman? "She was amazingly sporting. She laughed and thought it was funny and if I had been in her place I think I would have filed for divorce! (Smiles) She found my chest too large. But I liked it!"
So how did she react to Saif mimicking her father Randhir Kapoor in Humshakals? "Imitation is the highest form of flattery and Sajid is great friends with my father-in-law. So it comes with great respect and a sense of humor. Kareena reacted by saying, 'Oh God, Saif, I think Sajid is making too much fun of my family, but I am sure it's really funny.' And then she showed me how she imitates her father. I also made her say the line from the movie. It's all harmless. You need to have knowledge of commercial cinema to imitate actors like Rajendra Kumar, my father-in-law (Randhir Kapoor) and others."
Check out the trailer to get a sneak peek of Saif Ali Khan times 3 in Humshakals!
http://youtu.be/kaQVYLV1GEw