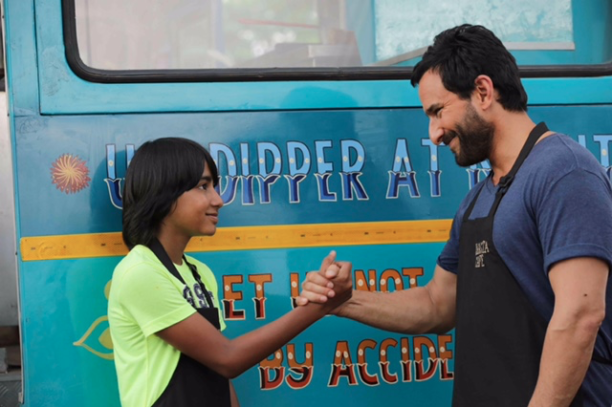 One of the films we are eagerly awaiting to see is Saif Ali Khan's Chef, the official Indian adaption of the Hollywood hit film. Directed by Raja Krishnan Menon, Chef follows the journey of New Yorker, Roshan Kalra, a Michelin-starred culinary master who is forced to go back to India and reconnect with his roots and with his family, especially his 11-year old son, Armaan. Their relationship is bittersweet, and throughout the film Roshan finds out what it really means to be a good father.
Interestingly Saif Ali Khan, who is of course a father in real life, found in reel life the role of Roshan Kalra was surprisingly daunting.
"I find it difficult to connect with or like other's kids. I only like mine," he jokes, but then goes on to explain, "therefore, to play a father to another kid and be convincing while doing that was my biggest concern."
Luckily for Saif, after 150 auditions, the casting directors decided on choosing Svar Kamble to play his son on-screen, and Saif has nothing but praise for the young actor, "Svar is so natural that it became extremely easy to like him, connect with him. We had a great time on the sets. It was great working together and we also learnt a few lessons in being so natural from him."
With such an organic connection between the actors, Chef promises to deliver the depiction of a beautiful, complex relationship between parent and child against the backdrop of hectic modern life (as well as some very tasty food).
Chef is out in cinemas on Friday 6th October 2017.
ICYMI

​