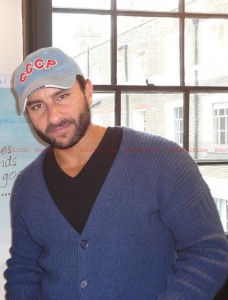 A tired but excited Saif Ali Khan promoted his upcoming release Cocktail, directed by Homi Adajani in the British capital earlier this month. The 41-year-old actor flew into London after finishing the Turkey schedule of Race 2.
Khan, who shot Cocktail primarily in London, excitedly spoke about the film to BollySpice reporter Sunny Malik. Check out what Saif said about the marketing strategy of the film, things he learnt from Agent Vinod, working with leading actress Deepika Padukone and newcomer Diana Penty and much more.
Before the trailer of Cocktail came out about two months ago, hardly anyone knew about the film as there was no poster and it was not being talked about much. Was that a pre-planned strategy to create maximum buzz in just the last two months before the release of the film?
I think, they (the marketing team) said that they wanted to promote the film on the internet and create as much hype as possible in the last two months. It was a bit of a plan. But I think, also forced by necessity to a point.
Do you think because Agent Vinod just released in March and you perhaps did not want to confuse the audience?
I don't know. The film just got ready around now. We wanted to not talk about it too early because we learnt a few lessons from Agent Vinod. Everyone knew that the film is coming out, that it is getting delayed and all these kind of things. With Cocktail we made a rule that we should first finish making the film and then start publicising. We finished filming two three months before we release. So, now we have started.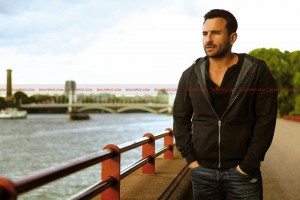 Were you surprised that the trailer and every song promo reached over a million views on YouTube within a few days as it does not happen with every Hindi film?
Yes, it does not happen with every film. I was happy that it was our turn to be one of those films because it has happened with other films. I guess what you learn from that is that certain films capture the imagination of the audience. You don't really know why. So, you keep trying and making different kind of movies. Some will work and some won't but I don't think you should take either result too seriously. The idea is to just keep trying different stuff.
Dinesh Vijan wanted to solo produce Cocktail with Deepika Padukone and Imran as leading actors.
That is right.
How did you come on board?
At one point we thought we should do different things as he wanted to do this and I wanted to do something else. We had a chat and we decided that we should actually work hard towards creating a strong company with one identity which is why we co-produce. As far as Imran is concerned, I think he was the first choice. But he was not signing the film for some reason. When I realized that he is not signing the film, I called Dinesh and said I would like to do this film because I liked the story. Actually, my secretary called me in the night and said 'I wish you were doing Cocktail'. I said that I probably can since it's my production. (Laughs) I would not say I hijacked it because nobody was signing it and we could have waited longer but it was fine because we did not have an actor. (Laughs)
Everyone is talking about how the rom-com genre is your comfort zone. Would you agree with that or is it just that people like to see you in those roles?
Yes, I would agree with that. There are certain things that come to me naturally, not easily necessarily. Everybody has a type that suits them and I think this is probably mine rather than Agent Vinod.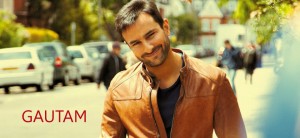 Tell me a little bit about your character Gautam. He seems a bit confused and I remember you told me once that you don't want to play the confusing lover anymore.
He is not confused. He is a little innocent. He is not naïve but he thinks life is quite simple, black and white. A lot of the crisis in the film comes about because of his misguided honesty. He thinks it is okay to tell somebody that this is how I feel. He does not understand that life can be a bit more complicated. But he grows in the movie into someone capable of sacrificing things. What is good about this script is that all three people do something that is very difficult for them to do in order to make someone else happy. As friends they start off somewhere but where they finish is in a situation where they all done something for someone which is phenomenal for somebody else which they would never have done in the beginning of the movie. They are not made like that but become like that eventually. So there is that personal journey and also the theme of friendship and loyalty and then there is the love story which kind of screws everything for everyone. I think, it's something everyone will connect to.
How was it like working with newcomer Diana Penty, not just as the leading actor but also as the producer of the film?
I think, Diana comes in prepared very well. You are not condescending in any way, you have to make her feel comfortable but without mollycoddling her. I like to make everybody comfortable that I am working with because it brings the best out of them. That's what we did and Diana is very good. She reacts to everything that is happening and has very natural reactions to everything. That is interesting.
You worked with Deepika Padukone in Love Aaj Kal and Aarakshan. When she was asked about problems on the sets of Love Aaj Kal between you two on Koffee with Karan, she said that you sometimes you go into your own zone. Does that still happen?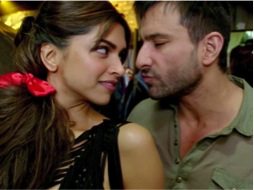 See that was a very different time because we were doing Love Aaj Kal and Kareena had just done Jab We Met. I think, she was quite keen to work with Imtiaz Ali again and I think he promised her his next movie. Her boyfriend being the producer of Imtiaz's next movie and being in the situation that she was, she was wondering and finding it hard to understand why we had cast Deepika, I think.
That also led to some confusion in my mind to what I should be doing because suddenly my professional and personal life is being mixed into one which it never was before. That was new for me as well. It took some time for it to settle again to the healthy normalcy of us, Kareena and I being together but very being different individuals professionally, where we don't have to even discuss really what we are doing. But at that point it was a bit confusing. I was withdrawn for that reason. It is still very gracious of Deepika to answer the question so well because Karan's question was quite naughty. But she dealt with it with the maturity that she has and I was quite relieved and proud that she handled it the way she did. Good for her.
You extensively shot the film in London. How was it like shooting here?
It was really nice and it has given the film a great amount of scale and it looks wonderful.
While shooting in Delhi, pictures of the climax sequences were published by newspapers which somehow gave away how the film will end. Did that annoy you?
Press in India can be quite funny sometimes. They made end climax scene look like Deepika and me are just saying Hello to each other quite warmly on set which is a bit naughty because it's a shot from the movie. They made it look like 'Saif sees Deepika after a long time'. I guess you are bending the truth to try and add spice to your newspaper. As a result, it should not be taken too seriously.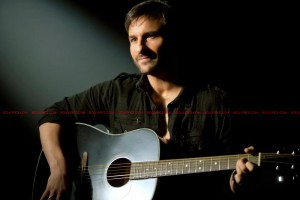 Was it easier to get permissions to shoot in the UK this time around as you had experience of filming here for Love Aaj Kal?
I think you get more used to the system and you understand more stuff. It is easier to get permissions than in half the places in India. No, that is not true actually. But it's nice to shoot here.
Talking about the music, two popular songs by Yo Yo Honey Singh, 'Main Sharabi' and 'Angreeji Beat' did not make it to the album. Why was that?
They must have been recorded late. They will be on the new CD.
What are your expectations from the UK audience for Cocktail?
Now, my expectations are quite high up there. I want it to be really good because I think people have really liked the promos and the film is quite hot in terms of marketing.
Cocktail is a love triangle set in London and Cape Town and will release in the UK and worldwide on 13th July through Eros International.
Cocktail is produced by Saif Ali Khan, Dinesh Vijan in association with Eros International and is co-produced by Sunil Lulla.