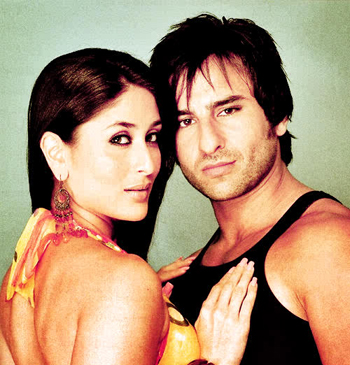 There have been many reports, many denials, many statements from the pair of yes, but not now and we will tell you when we decide and yes, soon, about the marriage of Kareena Kapoor and Saif Ali Khan. Well, now we have it directly from Saif's mouth, the two lovebirds will tie the knot in 2012. I know you are thinking but that could be any time in twelve months. Well, Saif also confirmed that the grand wedding will be in either February or March.
He told the Times of India, "Kareena and I will definitely get married by early next year. We plan to get married in February 2012 after Agent Vinod releases, but if the film's release gets delayed we will still get married by March. We won't postpone the marriage beyond that anymore."
He also had nothing but love and praise for his future bride, "Kareena is a wonderful girl and we are extremely compatible. My family and she have always got along well. We share the same values in life, love each other completely and I want to spend more time with her. I am looking forward to the marriage now."
We have not heard from Kareena, but you can bet we will bring you all the news as soon as we hear more!