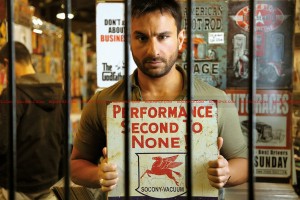 The urban, cool and metro-sexual Saif Ali Khan will be back in the genre of romantic comedies with his upcoming film Cocktail, directed by Homi Adajania of Being Cyrus fame.
After giving super hits in the same genre like Hum Tum, Salaam Namaste, Kal Ho Na Ho and most recently Love Aaj Kal, Saif plays the character of Gautam, a happy go lucky Delhi guy who loves women in his third home production.
Khan, who is currently holidaying with Kareena Kapoor in London, is called the king of romantic comedies. Saif loves portraying such characters and his fans have loved him in this genre in the past as well.
Illuminati Films' Dinesh Vijan says that the romantic comedy genre belongs to his leading actor. The producer added that the 41-year-old actor can do such films with ease as his comic timing is phenomenal.
Dinesh and Saif both love this genre and they have worked together successfully in 2009 hit Love Aaj Kal and now Cocktail which hits theaters in the UK on 13th July.