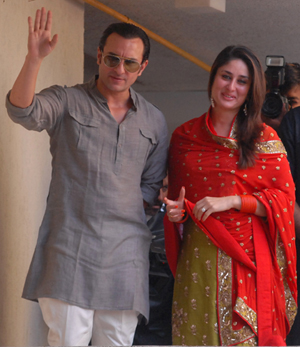 Saif Ali Khan has now started talking post shaadi about everything that initially he didn't comment on, be it about the pros and cons of his decision to tie the knot or Sara and Ibrahim's reaction to it. Saif said that a lot of people have been waiting for his reaction post marriage and have been asking him about how the relationship has changed, but he thinks it is by far the best thing he has done. He is completely calm about it and in fact feels very relieved that now the 'getting settled' part is sorted, and he can focus on other things. "People try to ask me if the feeling of disaster has sunk in yet, which is a very negative view. I have received positivity too, but that is unfortunately quite less as compared to the negative reactions. At different points in life, a lot of actors, including myself have been trying to say that we understand relations, which may have been lies or probably just an attempt to sound good. But just because we are actors doesn't mean our real life is in our control. We are as clueless as any other human being about what the future has in store," he said.
There is no doubt about how much their guest lists for the marriage were scrutinized, but Saif and Bebo simply wanted just their close ones to be a part of the wedding. "Bebo and I are very intimate in our circles, so we decided to call those people who have been to our homes and we to their homes. That was more or less the people who are close to us. Whatever the guest list eventually was, it was because our parents wanted to call people. If it would have been left to us, there would have been around 15 people attending our marriage" he chuckled.
When asked about his mother Sharmila Tagore's event planning, Saif said that she did everything in such a traditional way, and she loves organising things. He also said that he had initially called her and discussed about having the marriage in Pataudi, to which she said they should wait as it is actually on the bride's father as to where the wedding happens. He said, "For the first time, I understood why traditions exist and why are they practised earnestly. It is actually the right flow of things, we take the bride away from her home and after that we hold a reception for them. Bebo's family had the wedding their way, Amma had the reception her way while Bebo and I had our own fun!"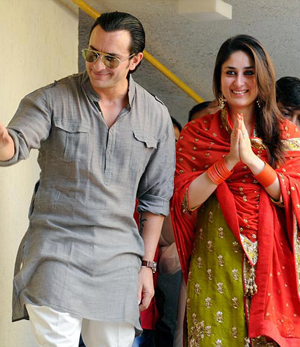 He also spoke about all the spiteful comments in the air by people who were expecting to be invited and weren't, and said that their wedding had a little bit of Hinduism, Islam and Christianity. "I somehow connected to the last bit more, as it is about vows and a language that you understand and you raise a toast to the bride's father, welcoming her into your family," he said.
One could not go without asking him about the role of the Maulavis who called his marriage invalid according to Islam, but Saif had his reasons ready for it. He said that earlier it was so that if it is not a Nikah, the marriage is not valid in Islam. He told us, "Now, there is a Special Marriages Act that makes it valid. In fact, I would say God will be very happy with our marriage as we did it keeping all three religions in mind."
But what about his children? Was there any awkwardness that he had to deal with? Saif said that the presence of both his kids at the ceremonies prove that they were happy for their father. "Sara held the garlands for me while Ibrahim held the ring. Kareena and I wanted them to be a part of everything and that was something we had worked towards. According to me, a relationship requires love and understanding and as far as that is there, everyone can co-exist."
According to him, the best part about the marriage is that now there are no more questions about 'when' is the marriage. He said he felt a sense of relief and he is very happy about the decision they took and now he shares a home with the one he loves, respecting each other's individualities. "I haven't jumped into something, I have done what I wanted to and I am content. I have left a single guy lifestyle behind and now I am a married man. A few friends come up to me and say; we could have gone here and there with you but now you are married. I told them it is their age to enjoy. At 42, I cannot be sitting at a bar and talking to random girls. It sounds obnoxious "he smirked.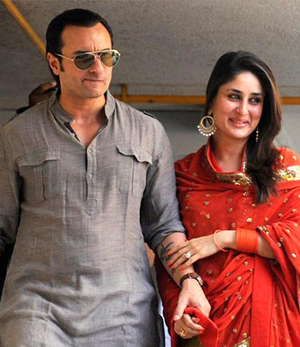 There was an online buzz about Kareena attending Saif's wedding with Amrita Singh when she was 11 years old, and Saif calling her 'beta'. Saif admitted that he was definitely irked by this buzz but he said that a lot of people don't really know how Kareena is as a person, as they judge her from the characters she portrays on screen. He clarified, "People will be surprised to know our equation, but I don't need to sit and answer every question that comes my way. We have a great responsibility as a couple, as Nawab and Begum, which we hope to live up to." To this, the question that came his way was if this goal of being a 'model couple' is a little unreasonable at his age, and he said that in fact this is the right decade to put things that matter in their right places, be it home or money, for the rest of your life. "40 is a magical age, where everything comes together and you change as a person," he said.
So what 'counselling' has Saif received post shaadi? He laughed and said that people have been advising him like he doesn't know what he is getting into. "A lot of people tried to tell me what is the key of a successful marriage and a lot of other things, but I wasn't really listening."
Talking about Kareena's influence on his choice of films, Saif said that she more or less likes the kind of roles he chooses to do, and if she feels something is not right she points it out. "She is quicker in reacting to things than I am and also more thoughtful about stuff. Even about our career orbits, I have a very restricted taste and we should focus on working with good directors. I can cause a disaster if I try to shove my own opinion into what the director wants. I would rather say; Mr.Director, tell me what to do and I will do it," he signs off.