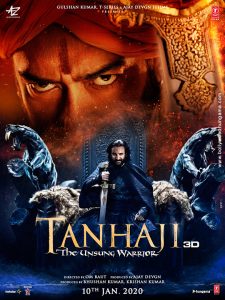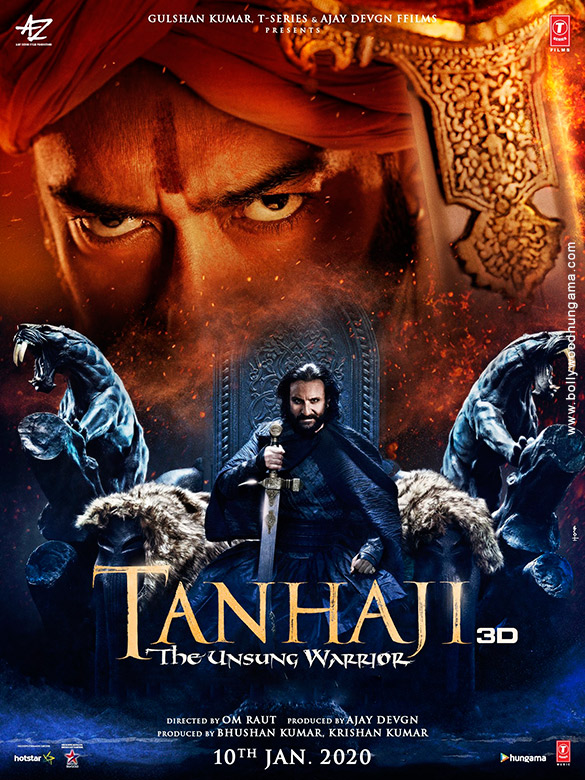 Tanhaji(3D)
Starring Ajay Devgan, Saif Ali Khan, Kajol, Neha Sharma, Sharad Kelkar
Directed by Om Raut
There is a pall of déjà vu shrouding this lavish though self-limited homage to a valour gone-by renewed and validated by modernday Bollywood visionaries who believe in the power of the costume drama to invoke stroing nationalistic feelings in the audience…
We've seen it all in Bajirao Mastani, Padmaavat and more recent Panipat. The brave Maratha warrior returns. This time it is Tanhaji Balusare (Devgan, dressed for the part), deputed by Chhatrapati Shivaji (Sharad Kelkar, powerful) to recapture the Kondhana fortress from the Aurangzeb (Luke Kenny, breathing toxic energy).
It's a 'safe' premise for a historical, given today's climate of Hindutva in our country where depicting Islamic invaders as anything but evil avaricious lustful and distrustful would be tantamount to sedition. In that sense Tanhaji is truly a passionate and ardent nationalistic films with war cries against the enemy renting the air, as valiant (Hindu) men on valiant (Hindu) horses hurl across the (not so adept) 3D screen with a patriotic purpose and jingoistic fervor that insists on rewriting history by current definitions of nationalism.
Seen within its restricted cultural and religious context Tanhaji works fairly well, though the confrontation sequences between Devgan's Tanhaji and Saif's Udaybhan Singh Rathod lack the inner fire of a true combustion. Both the actors seem to be holding back the implosive passion, Devgan because he always restrains himself, Saif because his co-star is doing it.
Saif's Udaybhan is clearly modeled on Ranveer Singh's Allauddin Khilji in Padmaavat. They are both hedonistic philistines with a leery glint in their eyes. Invaders whom we can't trust with the womenfolk in our family, and probably some of the men too. Saif clearly has a lot of fun being wicked in a comicbookish mode. He chuckles, growls, scowls and sulks. There is a naughty child within this invader garbed in shrieking colours.
While Saif is fun to watch, it is Sharad Kelkar as a Chatrapati Shivaji who dominates the proceedings. Kelkar with his imposing personality and voice takes over every scene that he figures in.
Ajay Devgan looks his part. But says his lines as though he were reading them from a teleprinter. Kajol has little to do. And the beautiful Neha Sharma even less. They both look like they could with something more to do. Padmavati Rao as the Rajmata has more space and some token lines of empowerment. But women, it seems are not as empowered in this costume drama as they were in Bhansali and Gowariker's pseudo-historicals.
While the earnestness of purpose and the scale of vision in Tanhaji are not to be doubted, the 3D format is not just unnecessary it actually hampers the flow of the storytelling. The CGs are laughably bad with the flying horses taking the cake. Otherwise all else is well in the Hindu paradise. Until the next invader crashes the party.