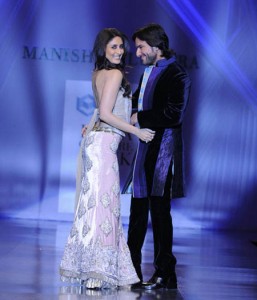 There has been much speculation as to when Kareena Kapoor and Saif Ali Khan will tie the knot and if rumours are to be believed then the couple will tie the knot on October 16th of this year.
Although previous rumours suggested the couple would tie the knot after the release of Agent Vinod the rumours were rubbished by Kareena who told TOI, "Speculations galore. The menu, venue… woh sab hum batayenge na. Aisi bhi kya jaldi hai?"
Kareena who is currently with Saif in Turkey whilst he is shooting for Race 2 is said to be wrapping up Heroine on July 25th.
The Heroine star is not giving anything away as even though the date October 16th is circulating around B-Town, Bebo is still not confirming the news, "From 2009 until now, I've been asked about the wedding date a hundred times. More than Saif and me, it's the others who are obsessing over this. I'm not taking any shaadi break. Once I wrap up Heroine on July 25, I get straight into Sanjay Leela Bhansali's Ram Leela with Ranveer Singh. I'm also negotiating another big project, which will start by the end of the year."
Whatever the case of the wedding dates, let's hope Kareena's marriage does more wonders than poor Karishma Kapoors who is said to be divorcing husband Sanjay Kapur.
One thing is for sure however, the Saifeena wedding is one of the most anticipated weddings of the year which is sure to be a big Bollywood event.