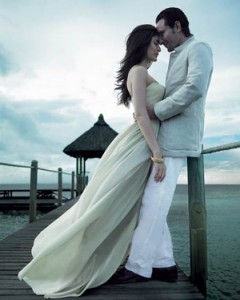 Rumours about Saif Ali Khan and Kareena Kapoor's wedding date have been doing the rounds for some time now.
According to sources Saif Ali Khan has been shopping for a wedding ring for his bride to be. A source told the media, "Saif had asked for a selection of diamond rings from this jeweller based out of Bandra. They sent him rings of different cuts and carats. He had asked for princess cut diamonds and also a few other shapes."
The source went on to give a possible date for the wedding saying, "Kareena and Saif are ready to tie the knot in February next year. In fact, Saif had started ordering various designs of rings for a while now. He took his time deciding on the perfect ring for his girl and finally took the one he liked about a week back."
This is not the first time Saif Ali Khan has been spotted buying diamonds for Kareena. In 2007 the actor was spotted buying a one-carat diamond ring for his girlfriend, which sent the rumour mill churning with the news of a possible wedding.
The couple has yet to confirm the news but according to sources preparations for the big day have already started; Ritu Kumar is said to be designing the perfect wedding dress for Kareena.
Saif Ali Khan and Kareena Kapoor will next be seen on the big screen in the action thriller Agent Vinod. The film is set to release on December 9th 2011.