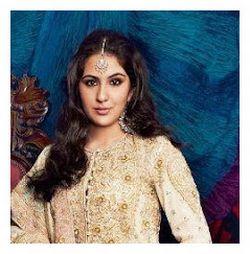 Bollywood has welcomed many children of well established stars into the industry who have had a tough task ahead of them to create a name for themselves. Stars such as, Ranbir Kapoor, Abhishek Bachchan, Kareena Kapoor have followed in the footsteps of their parents and grandparents and entered the silver screen.
And it seems the list of star children is to go on if the recent rumours of Sara Ali Khan, daughter of Amrita Singh and Saif Ali Khan, to do a Bollywood film are anything to go by.
Sara who first surfaced alongside her mother Amrita Singh on Hello Magazine India has said to be approached by numerous filmmakers to star her as the leading lady. Her mother Amrita said, "After seeing the magazine cover page, Sara has got many offers. Five eminent filmmakers have approached us and said that they wanted Sara to play the leading lady in their films."
Although Sara is said to be an aspiring doctor, it may appear difficult to refuse all 5 offers from the filmmakers especially when all 5 would have Sara as their leading lady! Let's hope Sara agrees to at least one of these offers and we see her shine on our screens soon!