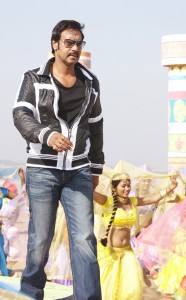 Blockbuster director, Sajid Khan, has attempted to recreate the magic of 1980's Bollywood movies with his Himmatwala remake. He said, "If you talk about the 1980s – what used to happen in 1980s movies – it doesn't happen any more – the hero's entry."
A really tough challenge to which he seems 100% confident will make everyone cheer. "I have designed such an entry for Ajay that I was clapping while I was writing it, I was clapping while I was shooting it. I have given a lot of stress on entry."
He adds, "This is an open challenge that if viewers won't clap on Ajay's entry in 'Himmatwala', I will refund the ticket money.
Sajid says that the 80's film style has experienced the consequences of western cinema idealisation, as if the essence of Bollywood were being lost. "That kind of cinema is coming now only with two stars – Salman Khan and Ajay," Sajid said, adding that Dabangg and Wanted became big hits because they featured heroism, which is very prevalent in the South. "In northern India, we are shying away from this and our culture is going more towards western cinema. I wanted to bring that back because I have grown up watching cinema of the 1970's and 1980's."
"When I wrote scenes, I wrote it in the 1980s style. The mother-son drama, hero will fight with tiger, hero will save the whole village, he will be friends with a tiger, and 'dialoguebaazi'… something that made Mr. Bachchan or Vinod Khanna or Dharmendara a star," Sajid said.
The director has so far directed three films and all of them were big hits. "I take myself seriously only when I'm making a film. I make it from the audience's point of view," he added.
Himmatwala is directed by blockbuster director Sajid Khan, starring Superstar Ajay Devgn and Tammanah.
Presented by UTV Motion Pictures and Pooja Entertainment, the film is produced by Ronnie Screwala and Vashu Bhagnani and releases in the UK and Worldwide on 29th March 2013.