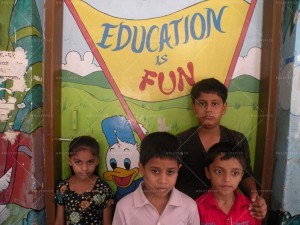 Salaam Bombay Childrens Fund based in Stamford, CT along with The New York Society For Ethical Culture will be hosting a benefit concert in New York City to enable underprivileged children from India's slums to stay in school. The evening, titled "Sounds of Hope" will feature a night of India inspired jazz, with some of the world's most renowned musicians, and will be held on November 14th at the New York Society For Ethical Culture near Central Park West in Manhattan.
"This concert is a wonderful opportunity for the people of New York, world music and jazz lovers to participate in supporting underprivileged children to stay in school. Join us and change a child's life" says Victor Martinez-Angles, President, Salaam Bombay Childrens Fund.
Salaam Bombay Childrens Fund works with children in Mumbai's slums. The foundation helps children that live in conditions of extreme poverty and deprivation. 9 out of 10 children drop out of school, and face the risk of child labor and substance abuse, with tobacco use in particular. 1 in every 3 children is addicted to tobacco and is at the risk of getting cancer. Salaam Bombay Childrens Fund supports these 'at risk' children in programs that engage them through in-school leadership and after-school sports and arts programs. These programs build confidence, self-esteem and commitment to stay in school.
Sounds of Hope will be a unique evening of world music. Featured artists are Larry Coryell, a pioneer of jazz-rock whose eclectic sounds and brilliant technique has shaped the genre; Osam Ezzeldin, one of the brightest stars on piano and keyboard on the world music scene today; Kai Eckhardt, a former bassist with the John Mclaughlin Trio who has shared the limelight with jazz greats across the world; and Aditya Kalyanpur, a tabla maestro who has worked with a galaxy of stars including Keith Richards, A. R. Rahman and Katy Perry.
"I have experienced how the power of music can change lives. I am proud to be associated with this cause, which helps support the underprivileged children of my home town," says musician Aditya Kalyanpur.
Co-Sponsoring Sounds of Hope is The New York Society of Ethical Culture, a welcoming home for humanists. They provide non-theistic services in a congregational setting and embrace the diversity of the city and invite all to join in celebrating life's joys, supporting one another through life's crises, and working together to make the world a better place.
Tickets for Sounds of Hope range from $35-$100 and can be purchased at http://sounds-of-hope.eventbrite.com. To learn more about Salaam Bombay Childrens Fund, please visit: http://www.sbchildrensfund.org/.