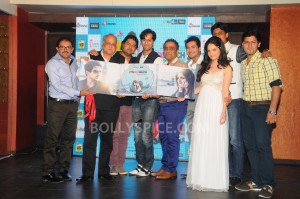 Goosebumps Entertainment Pvt. Ltd. Today launched the music of their upcoming movie, the Pushkar Jog starrer 'Huff – It's Too Much', at a star studded evening in a swish suburban nightclub – Shockk. Shot at interesting locations across UK, this full-length Hindi feature film not just stars and marks Pushkar Jog's Bollywood directorial debut, but also marks the acting debut of Indo-Brit Actress Armeena Rana Khan's.
The music was launched by renowned music director Salim Merchant, who has also sung a song in the movie 'SOONI SOONI', at a high octane event in the presence of the entire cast and crew of the movie, music director duo of Sai-Piyush, the singers, industry stalwarts and the media. To be marketed and distributed by Goosebumps Music the 'Huff – It's Too Much' soundtrack consists of seven tracks features acclaimed singers Lucky Ali, Adnan Sami, Salim Merhant, Kunaal Ganjawala, Mahalaxmi Iyyer, Suzanne D'Mello and Marriane D'Cruz. Lyrics have been given by Pushkar Jog, Hrushikesh Joshi and Sarim Momin.
Speaking on the occasion, Sai – Piyush, said: "This is our second outing with Pushkar and we are very moved that he had full faith and entrusted us with the music of his debut Bollywood directorial movie 'Huff – It's Too Much'. Being an unconventional love story he wanted to traverse the entire spectrum of emotions that comes with the space, through his music. We have thus managed to stay true to the need of the movie while provide music for all audiences.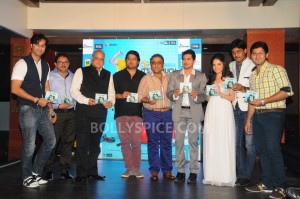 "We must add though at this time a large credit for the brilliant soundtrack of the movie also goes to the acclaimed singers Lucky Ali, Adnan Sami, Salim Merchant, Kunaal Ganjawala, Mahalaxmi Iyyer, Suzanne D'Mello and Marriane D'Cruz. Not just were they effortless to work with but they also rendered our compositions perfectly," added music director duo of Sai-Piyush.
The event kicked off with Pushkar, the man behind 'Huff – It's Too Much' and Goosebumps Entertainment along with Lead actress Amreena, interacting with the media and sharing their experiences, their journey in putting together this romantic laugh riot. This was followed by the screening of the movies theatrical trailer and a couple of chart popping number from the movie, along with live renditions by the Salim Merchant and Kunaal Ganjawala. The film also features a melodious track 'Yeh Lamhe' by the legendary singer Lucky Ali. The evening closed with an energetic entertaining performance by Pushkar on the track "Sooni Sooni".
Commenting on the music actor-director Pushkar Jog, said: "Today music is one of the most essential elements of a movie and its marketing, especially if your movie is a love story. It forms a brilliant tool to communicate the mood and multitude of emotions involved in romantic set-ups. I took no chance on this front involving musical genius and a fresh but prodigal music director duo of Sai-Piyush. I am extremely happy with the film music and am sure it will appeal and enthrall all target audiences alike."
Also starring Omar Khan, Mona Kiren, Humayun Zubairi, Niks Vaja, the films other credits include Producers Goosebumps Entertainment and Sandip Patel (Genlock Films), Story: Renu Patel, Script and Screenplay: Pushkar Jog, DOP: Anthony Gurner and Editor: Sandeep Francis.