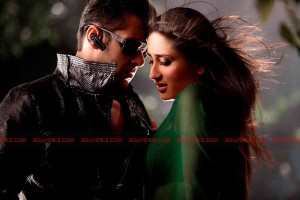 After the declaration of the innovative 'Bodyguard contest', in all the cities in India where Salman and Kareena are travelling for their promotions, the local people have gone berserk and the entries have been pouring in, non-stop.
The producers of the film Bodyguard, indeed kept to their word and have propagated the 'local bodyguards' in every town and city that Salman Khan and Kareena Kapoor will be at and have been at. Being their bodyguard for the day, has excited the public and their fans are going crazy for this contest.
In just few days, thousands of people from across India have applied to become Salman's and Bebo's bodyguards. It seems that they don't want to loose out on a chance of becoming their favorite actors bodyguards for a day and to travel with them to all the places they visit within the fan's city.
The selected person, in each city, will be like a shadow to the stars and will get to touch and feel the world of glamour intimately.
The film's producer, Atul Agnihotri confirms: "It is overwhelming to see how positively people have responded to this and now to choose one person amongst so many deserving ones, will be quite the task. As a concept, it is an extremely enriching experience for all those involved, as well as garnering the visibility of film and it's stars A-List popularity."
Close sources also reveal that the locals from the cities are hysterical about this and that the contest idea is a big success and hits the perfect bulls-eye, allowing the common man to reach out to their stars and get a chance to guard them for one day, in a once in a lifetime experience.
Bodyguard is this season's biggest film releasing on a long weekend of Eid and Ganesh Chaturthi on 31 August, 2011.