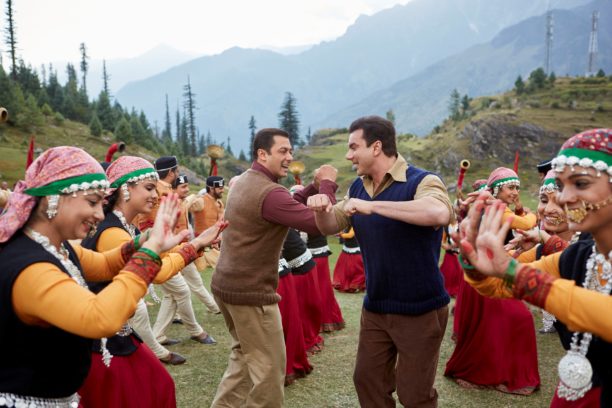 Salman Khan released the second track, 'Naach Meri Jaan', from his highly antiicpated film Tubelight today. The song beautifully captures the loving relationship between the the Bisht Brothers – Laxman and Bharat. Watching the bond between the real life brothers Salman and Sohail will definitely get you to naach along with them!
From playing cricket, exercising to doing everything that brothers do, director Kabir Khan has captured the love and affection between the brothers both real and reel. The actors look absolutely adorable as they dance about in the valley and jump in the air in their knitted sweaters.
The song has been sung by Kamaal Khan, Nakash Aziz, Dev Negi and Tushar Joshi. The lyrics penned by Amitabh Bhattacharya and Music Director Pritam casts his magic again in this highly energetic number shot in Manali.
Celebrate Bhaihood with Bandhu and Captaan!
'Naach Meri Jaan', which we know you will be singing, encourages you to just go out there and a give a tight hug to your sibling.
Directed by Kabir Khan who has already worked with Salman Khan in Ek Tha Tiger and Bajrangi Bhaijaan, Tubelight also stars Chinese actress Zhu Zhu and will mark as the last outing of late actor Om Puri. Tubelight releases in cinemas on 23rd June 2017.
Synopsis:
In a small picturesque town of North India, lives Laxman (Salman Khan), with his younger brother Bharat (Sohail Khan). The two have no other family and are inseparable. Laxman is a simpleton and is unique in the way he sees the world around him but is often the target of the town bullies. His brother Bharat is fiercely protective of him and the two share a deep bond.
Laxman's world comes crashing down, when the tension at Indo-China border peaks and Bharat gets drafted into the Army. A helpless Bharat leaves a devastated Laxman behind.
News from the border only worsens, as the tension continues to escalate. Seeing the carnage around him and worried for his brother, the simple – minded Laxman decides he must stop this conflict and get his brother back.
TUBELIGHT is set in 1962 and tells the story of one man's unshakeable belief in himself and the love for his family.