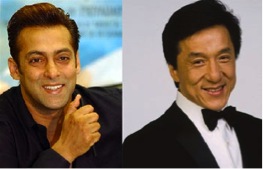 And the Aascar goes to Salman Khan & Jackie Chan!!!
Kollywood producer Venu Ravichandran a.k.a Aascar (Oscar) Ravichandran has pulled out a casting coup of all sorts. If everything goes as per the plan, we might see the Dabangg superstar Salman Khan sharing screen space with Hollywood martial arts and acrobatics maestro Jackie Chan. Ravi plans to rope in Salman Khan & Kamal Hassan for a cameo performance in his next ambitious venture Thalaivan Irukiran which is a sequel of the 1986 Hollywood action blockbuster Armor of God.
Aascar Ravichandran is well known for his larger than life projects like Ananda Tandavam, Lucky Jokers, Vaaranam Aayiram and Leelai. The Tamil producer has been in talks with the Asian Hawk (Jackie Chan) since 2004 for his next action film when the actor was in India shooting for The Myth. "I have been discussing it with Jackie Chan for the last few years. The script has a global theme with an Indian connection. Yes, talks are on with Salman Khan. Hopefully, we will seal the deal in a week's time. But we are yet to fix a Tamil star for the project", quoted Ravi.
The multi-talented and versatile Kamal Hassan who  tag-teamed with Aascar Ravichandran in the 2008 sci-fi flick, Dasavathaaram has showed keen interest in the role. It is believed that Katrina Kaif, who has her eyes on the South Indian film industry and has already signed up for the film.
A source added, "It will be the mother of all action films and is going to be made on a mammoth budget of Rs. 300 crores! It will be the most expensive Indian film ever made. Ravichandran has approached Salman to play an important cameo. He feels the actor has one of the best bodies in Bollywood and the charisma to match Jackie Chan. Only he can carry that role. Having Salman on board will also help in getting nationwide reach.""
Salman Khan – the man with the midas touch in Bollywood currently sports a jam-packed calendar with the shooting of Dabangg 2 already underway and has a lot of films in the pipeline for the year like Ek Tha Tiger, produced by Kabir Khan where he plays an undercover RAW agent.  It would be interesting to see if Sallu puts his other projects on a back seat if this deal gets sealed. Salman, however remained unavailable for comments.