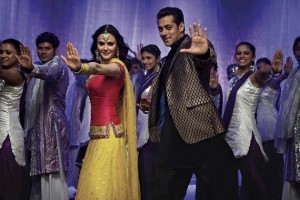 There is significant interest surrounding the forthcoming release Ishkq in Paris. This is because it is considered by many to be Preity Zinta's major comeback after a long absence from the screen. Well there is now another reason for fans to get excited as superstar Salman Khan will be making a cameo appearance for a song in the film! The audience will soon be seeing him grooving 'desi style' to the song Kudiye di Kurti which is composed by Sajid-Wajid. The composers have recently given us the highly addictive song 'Mashallah' from Ek Tha Tiger (2012).
According to reports, Salman instantly promised Preity (who is also the producer of the film) that he would make the appearance when she came to him with the concept over a year ago. There was some scepticism surrounding his ability to make it for the shooting of the song, as Salman was incredibly busy with the promotional tour for Ek Tha Tiger. However, being the professional actor that he is, Salman fully lived up to his promise and took a couple of days off from the tour in order to do the song for Preity.
In a statement to an Indian newspaper Preity expressed her joy over Salman's appearance in Ishkq in Paris: "I love Salman for being a part of my first film as a producer. First experiences are always the most memorable and special and he has rocked the movie for me by looking so handsome and super-hot."
Salman plays himself as a celebrity guest in a wedding scene where the leading protagonists are also present. Hopefully this will be another Salman song which will delight us Bollywood fans! Ishkq in Paris, starring Zinta and Rhehan Malliek will be releasing in cinemas on 5th October 2012.