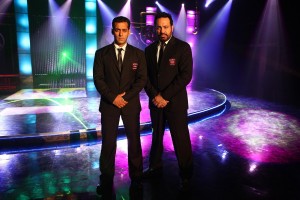 In his newest film Bodyguard, Salman Khan takes on the job of protecting of Kareena Kapoor's character Divya in the action-romance, set to release on August 31st. In real life, it is a man named Shera who is the bodyguard for Salman Khan, and he has been in charge of Salman's protection for the last 15 years. With upcoming release of the film, we have been learning more about the man in black seen by Salman Khan's side. We saw him honored by the actor when he was chosen to unveil the very first trailer for the film, and have even seen Shera dance in a song promo for the film! Check out this exclusive heartfelt interview with Shera as he talks about working with Salman bhai.
Since how many years are you with Salman Khan, please share with us what kind of a bond you share?
I have been with Salman bhai since 15 years, he is my 'Malik' (boss). Our bond is too special and if I start talking about it will take me a lifetime to share everything, so to sum it up he is my boss, brother and friend.
Salman had asked you to unveil the first theatrical of his next film Bodyguard. Were you aware that you were chosen to do that? How did it feel?
I have been close to Salman bhai for years, but I never imagined that I would be given such a huge honour. It was a surprise for me when I was asked to unveil the first look and give a speech on him. I was completely clueless and overwhelmed by the honour that such a big star gave me. No one has ever done that before in our industry. It was indeed a very special moment for me! It feels good to see the amount of faith he has placed in me. Which other superstar can do something like that? Only he has such a big heart to do it.
We hear that you are doing an interesting dance and act bit in the item song of Bodyguard, you have faced the camera for the first time in your life. Share your thoughts and experience.
Yes, this is the first time I will be in front of the camera with Salman bhai and Katrina doing an item song for the film. The item song is called `Aaya re aaya bodyguard…' and we shot it at Film City. This song will be the title montage. It was scary and I was nervous. But I will never forget this experience.
You have been Salman's bodyguard for years and now he has elevated you to a different position altogether. How does it feel?
It is nothing less than a dream but I have been there to earn that confidence. Salman bhai is such a huge star and for someone like him showing such trust in me is nothing short of a miracle. In front of the whole world, he said that this is my most trusted man. Isn't that great?
Salman recently said that if ever you were to write a book on him he will be doomed since you know all his secrets. Do you ever plan on writing a book on him?
I will never write a book on Salman Bhai. This is one thought which has never occurred to me. I cannot break his trust. He said all these things in jest and I would like to keep it that way.
Salman is known for his anger and public splats. How do you deal with such situations?
Salman bhai has no enemies. He is a great human being and I am there only to guard him at public places and events. He is my boss, brother and friend. I can give my life for him.
Salman Khan refused an in-film branding offer of Rs 7 crores by a security company and instead chose to wear the uniform of your company. What do you have to say about that?
You can imagine his liking for me by that. He is a real nice man at heart and when he was offered he knew that I own a security company called Tiger Security that supplies bodyguards to bigwigs in the industry so he chose to only wear my company's logo.
Did you offer any advice to Salman Khan, who plays bodyguard to Kareena Kapoor in his next film?
Salman has noted me so closely for past many years that he didn't need any advice. He looks damn smart and handsome in the film. He is the real life Bodyguard.
According to you which heroine suits the best with Salman? And when should Salman get married?
Salman bhai looks good with anyone and everyone. And regarding marriage this is his personal decision so what do I say. When the time is right it will happen.
Watch out for Salman's Bodyguard avatar when the film hits theaters this Eid! Check out the story of the film!
Synopsis:
When it comes to being punctual and doing his duties perfectly, Lovely Singh is unmatchable. Taking great pride in what he does, he spares no effort in giving his everything to his profession. Summoned for an assignment of guarding Divya, the daughter of Sartaj Rana, a business tycoon, Lovely Singh accompanies her to her campus, but ends up rubbing her the wrong way with his over-protective nature and paranoia about security. She finds him to be a major obstacle in leading a regular campus life.
To throw him off-track and get him out of the way, she comes up with a 'master-plan'- that of trapping him in a fake love affair. 'Once he's smitten by the girl of his dreams and is reveling in his new-found romance, he will leave us alone, and we shall be free to do our own thing unhindered', says Divya to her friends. She becomes an anonymous admirer of his and starts hounding him, expressing her 'feelings' in no uncertain terms. Lovely Singh however proves to be a tough nut to crack, and it takes quite a bit of doing from her side to penetrate his fort-like exterior.
But once she succeeds in doing so, he transforms into a completely different person. Divya is triumphant and is all set to relish her regained freedom. But things take an unexpected turn when she learns a few things about Lovely Singh. Things that she could've never even imagined! And she soon finds herself trapped in a dilemma that she's unable to resolve! And with her, soon enough, Lovely Singh finds himself ensnared in a web of lies, trickery and deceit. Bodyguard is the story of conflict- between innocence and mischief, love and power, and life and death!