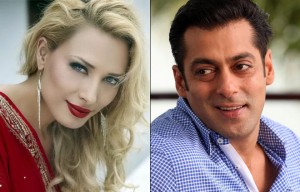 Arpita Khan's wedding has been an ongoing topic with new things coming up every second. From who attended, who didn't attend and who came with who. The latest topic circulating the wedding is Salman Khan introducing Lulia Vantur as his girlfriend. Now, we all know Salman Khan has had many girlfriends in the past ranging from Aishwarya Rai to Katrina Kaif, but to bring Lulia to his sister's wedding and introduce her as his girlfriend, it just paints a picture of how serious the couple are.
The couple met back in 2011 on the sets of Ek That Tiger. Lulia is staying at a hotel in Bandra which isn't too far from Salman's apartment who we've heard that he even pays the bills for her 5-star stay. At the India Today Conclave in March Salman commented saying, "Now I'm in transit period and I like it. From the age of 15, I did not get a transit period. For the first time, I have such a chance to sigh. I am sighing more since it has been two-and-a-half years. It's time to stop sighing because something soon will happen in my life. I follow humanity. I follow Islam, Christianity, and follow right thing as much I can. I have been kind of blessed. Father is Pathan, mother is Hindu, second mother is Catholic, and brother-in-law is Punjabi. Wife, I am thinking to bring from outside."
Even though Salman seems happy, little sister Aprita does not approve claiming that Lulia is simply using Salman to get into the Bollywood industry, which is actually working as she is set to be in O Teri which is being produced by Salman's brother in law Atul Agnihotri. Now, until Salman says otherwise these are the facts so let's see where this couple go.