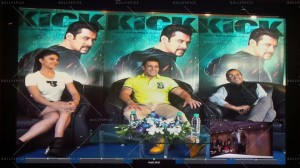 Bollywood megastar Salman Khan took part in a video conference with the UK press as part of his promotions for his upcoming Eid release Kick. The 48 year old actor was joined by his female co-star Jacqueline Fernandez, as well as author Chetan Bhagat, who co-wrote the screenplay to the film along with director Sajid Nadiadwala. The video conference took place at a hotel in Central London with a video link to Mumbai where cast members took questions from journalists regarding the film. Here are just some of the discussions which took place during the conference.
When asked by one reporter what attracted him to be a part of Kick, Salman replied, "I didn't read the script. I just read bits and portions of it and knew the film. So it was very easy for me to do the movie because just on the narrative, it sounded like a very interesting and young project. It sounded like a joyride. So when I was hearing the script, I kept on going 'oh my God. This is so amazing and fun.' So I think that's what it takes. If you're enjoying the script, then you do the movie. If you start yawning in-between the narration, you then ask the director or writer to stop the narration, go home and write something else. I need to do stuff that I find interesting. And after it releases, I don't know if you will find it interesting or not but I found it a lot of fun. I visualised the entire film and Sajid and me saw it exactly like this."
Also asked about the experience of working with Hollywood stunt directors, Salman said, "These Hollywood guys have also done a lot of Tamil and Telugu films. They're really good but I didn't get a chance to work with one guy in London because I didn't get my visa."
Both Salman and Jacqueline also talked about their experience of working with Sajid Nadiadwala for the first time as a director, with whom they had worked with previously as a producer. Salman had this to say, "It was the first time I ever saw a director laying down. He used to sleep and say 'sound, camera, action.' But he had a huge advantage to the other directors, because he's worked with so many other directors as a producer that he's taken the best and kicked out the bad points."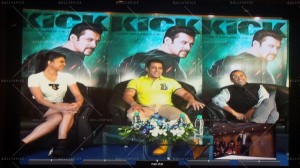 Jacqueline added, "I think he is an amazing director and was very, very good to his actors and he was very clear about what he wanted from us. I think he's made an amazing film."
Chetan Bhagat was asked by another journalist regarding his experience of writing the script and how much of a 'kick' did he get out of it. "Sajid Nadiadwala knows me from working in 2 States so he called and said 'I'm looking to direct this film and have never directed in like 25-26 years. So the brief he gave me was to write a film that is entertaining in every minute. The basic premise of the film is something that I really like which is that a man lives for his kick. So Sajid was directing this for his kick. And I as a novelist was writing this for my kick. And I think Salman lives his life for his kick. So there was so much connection with the plot for everybody involved in the film that we just had to do it."
"It is a mass entertainer," added Chetan. "I'm not trying to do anything else but to make his fans happy. When I write a book, it's just me. But here I am only one department and have to make sure that his fans are happy because they are waiting and it is also heavily trending on Twitter. I asked him why he wanted me to write the film. And he said that it shouldn't be just a Salman Khan entertainer so we shouldn't have storytelling."
Chetan also added that Jacqueline's character is not a prop in the film and has a strong character who is very much a big part of the film. "I don't write stories like that. She's playing a very strong part in the movie and I think even she was surprised when she heard that there is so much that she needs to do in the film. Every character has some kind of an author-backed part literally."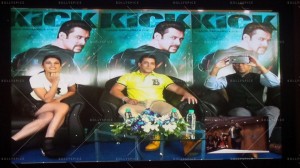 Jacqueline was asked how she put her stamp on the film by a journalist, her response was "I think it is the responsibility of every actress, no matter what your role is and how small it may be, to outperform yourself. I wouldn't want to outperform any other actor in the film because I think it's all about teamwork. But you outperform yourself and do the best you can for the movie and that's the most important thing. So I was shocked when I was given the narration and saw what an amazing role I had been given. And at the same time I knew that it was my responsibility and down to pure hard work to make sure that I do my best."
Salman also praised Jacqueline during the conference and said that she has performed very well in the movie. "When we see the film, we think we made a brilliant choice and are lucky to have her in it. She is going to give a lot of the actresses' sleepless nights and it's just going to make them work a little harder."
Salman also spoke about singing for some of the songs in the film which includes the popular number 'Hangover.' "I don't' sing that much at all. But I wanted to do this for me and I thought I'd get some songs recorded in my voice so that when I sing it, they (audience) knows that I'm singing it, even though I'm lip-synching to it. Singing for 'Hangover' went pretty okay and they decided to include it in the movie. I also sang a song called 'Tu Hi Tu,' but it was really bad that Sajid decided not to include it in the film and I agree with him."
BollySpice was also at the conference and managed to ask Salman if performing action sequences is getting harder or easier for him, given that he has taken part in many action-oriented films during his illustrious career. "When I started this whole action journey from Wanted, it got really difficult. Because I started this whole action thingy because I wanted to stay fit. It's been ten years and I'm ten years older so it takes a toll. But every month if I am doing action, it comes better naturally to me know because it's pretty much the same. I mean they have different ways of shooting it and different gags, but its just physique that has to be there. And with me because of doing so much that it's there now and I've also started doing a lot of training such as dancing, gymnastics and yoga. So I'm keeping myself as fit as possible for romance actually. It's the action that will come naturally."
We also asked Salman if he had a message for all his fans, he said. "Right now it's just Eid Mubarak, God bless you guys and stay safe!"
Kick releases on 25 July and is also the big release this Eid! Catch it at a cinema near you!